It's that time of the year again where we take a look at what everyone is eating. In 2019, Thanksgiving felt a lot different in 2019 than it does this year. We took a look at Google Trends to see what every state was searching for the most.
It became quickly obvious that Mashed Potatoes was the top side item as it was the favorite in 10 states. Mac and Cheese was a close second with seven states searching the most. As you can see Mac and Cheese is really popular along the Atlantic Coast but doesn't really show up elsewhere.
Broccoli Casserole was the favorite in Kentucky and no where else.
A side salad is the favorite in Maine! Does Maine even know what is available at Thanksgiving?
Some states like their gravy white, some states like it dark, and some states want it straight from the turkey. Shout out to the states where the most important side is something that you pour over other sides!
Iowa is going with straight corn. I'm not surprised, but maybe Iowa just has corn on their mind at all times?
Some states call it dressing. Some call it stuffing. We just grouped it together, but we left Louisiana in their own class with Cornbread Stuffing.
Let's see how 2020 shapes up, but we wouldn't be surprised if Bourbon makes the list for most popular 2020 Thanksgiving side items!
Wondering where your state lands? Take a look below to see where you shake out!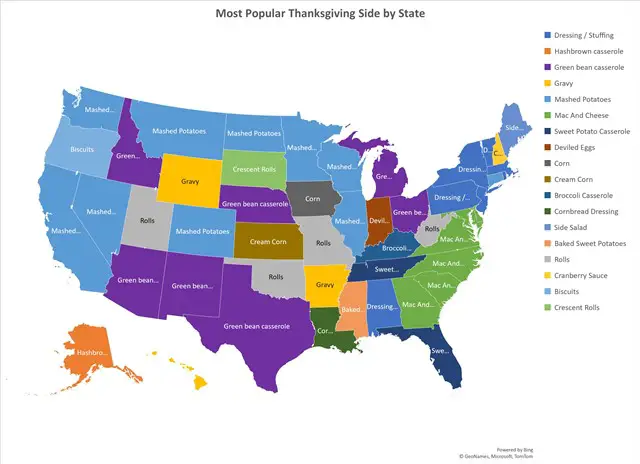 Alabama: Dressing / Stuffing
Alaska: Hashbrown Casserole
Arizona: Green Bean Casserole
Arkansas: Gravy
California: Mashed Potatoes
Colorado: Mashed Potatoes
Connecticut: Mashed Potatoes
Delaware: Mac and Cheese
District of Columbia: Mac and Cheese
Florida: Sweet Potato Casserole
Georgia: Mac and Cheese
Hawaii: Gravy
Idaho: Green Bean Casserole
Illinois: Mashed Potatoes
Indiana: Deviled Eggs
Iowa: Corn
Kansas: Cream Corn
Kentucky: Broccali Casserole
Louisiana: Cornbread Dressing
Maine: Side Salad
Maryland: Mac and Cheese
Massachusetts: Dressing / Stuffing
Michigan: Green Bean Casserole
Minnesota: Mashed Potatoes
Mississippi: Baked Sweet Potatoes
Missouri: Rolls
Montana: Mashed Potatoes
Nebraska: Green Bean Casserole
Nevada: Mashed Potatoes
New Hampshire: Cranberry Sauce
New Jersey: Dressing / Stuffing
New Mexico: Green Bean Casserole
New York: Dressing / Stuffing
North Carolina: Mac and Cheese
North Dakota: Mashed Potatoes
Ohio: Green Bean Casserole
Oklahoma: Rolls
Oregon: Biscuits
Pennsylvania: Dressing / Stuffing
Rhode Island: Dressing Stuffing
South Carolina: Mac and Cheese
South Dakota: Crescent Rolls
Tennessee: Sweet Potato Casserole
Texas: Green Bean Casserole
Utah: Rolls
Vermont: Dressing / Stuffing
Virginia: Mac and Cheese
Washington: Mashed Potatoes
West Virginia: Rolls
Wisconsin: Mashed Potatoes
Wyoming: Gravy