We love Christina Tosi and her work so thought it was worth sharing! You may have seen her on MasterChef Junior, an episode of Chef's Table: Pastry, or even saw her on Jimmy Fallon. Or maybe even walked into her Milk Bar store. Wherever it may have been, you are sure to love Christina as much as we do.
So as a Chef, business owner, and celebrity, what is Christina's net worth? According to Celebritynetworth.com, Chrstina Tosi has a net worth of $1 million. That said, we believe that Christina's net worth is likely closer to $2 million to $3 million given her appearances on major television series and ownership in 15 Milk Bar Locations. According to a story in the NY Times, 33% of Milk Bars sales come from e-Commerce.
Early Career
Christina's first entry into the culinary world happened in 2005 after moving to New York. She first worked at the fine dining restaurant of Bouley and later moved up to wd-50. It is interesting because her claim to fame was not cooking but writing a Hazard Analysis Critical Control Point plan for wd-50.
Not long after, Christina was introduced to David Chang, owner of the famous Momofuku, to write his food safety plans. Eventually, Christina would begin cooking desserts for other employees and become in charge of Momofuku's pastry program. Before Christina started, there were not any desserts on the menu.
At this time, Christina saw the path to making desserts as being a pastry chef at a fancy restaurant. That worked for a while as she created her own pastries, putting an extreme spin on some of her childhood favorites. Some of these items included things like cereal-milk panna cotta and sour-cream ice cream. This cereal milk became something she was known for and eventually would be the basis for her next stop, Milk Bar.
Milk Bar
After a few years of working for David Chang, there was a spot that opened up next to one of Momofuku's locations. Chang then convinced Christina to open her first location that would be called Milk Bar. He knew that Christina wanted to open a bakery and pushed her to pursue her passion.
Chang worked out the details to get Christina the location, and this first Milk Bar location opened in November of 2008 and started out with today's signature items of happy milkshakes, cereal milk, the compost cookie and crack pie.
On day one, the doors opened, and there was a line around the block. Christina notes that "it was like a cannon ball." In the beginning, Christina was still creating desserts for Momofuku. This is why the stores original name was Momofuku Milk Bar, but it became evident as new locations opened that it should just be Milk Bar. No longer were the customers the same, and many of the customers couldn't even pronounce "Momofuku"
In a few short years, Milk Bar grew from that single location to over 9 retail locations. Christina never wants Milk Bar to be a concept on every corner like Starbucks, but today she is pushing 15 locations across cities like New York City, Washington, DC, Boston, Los Angeles, Toronto and Ontario. Milk Bar also has the ability to ship to your door, and ecommerce has become a large part of the business.
Christina has partnered with a group called RSE ventures, which is driving the growth of Milk Bar locations and e-commerce. David Chang also still owns an undisclosed stake in Milk Bar.
Education
Christina Tosi was a graduate of the International Culinary Center's Professional Pastry Arts Program in 2004. This program was founded at the French Culinary Institute (FCI). In 2020, ICE and ICC came together to form a single culinary platform at campuses across both New York City and Los Angeles.
Before culinary school, Christina started her education at the University of Virginia working towards becoming an electrical engineer. She was good at math (and loved it) and thought she loved science.
After a year in school, Christina studied abroad in Florence, Tuscany, and Italy. She did some soul searching and really wanted to find the thing that she would never get sick of doing. She eventually found her real love … making cookies!!
Eventually, she graduated from James Madison University and then moved to New York where she started working in restaurants and attending the Culinary Institute.
Cookbooks
Christina's first cookbook was Momofuku Milk Bar. It offered a revealing look at the recipes and culture that make Milk Bar unique. All the Milk Bar classics from day one are included from Cereal Milk and Compost Cookies to Milk Bar Pie and Birthday Cake.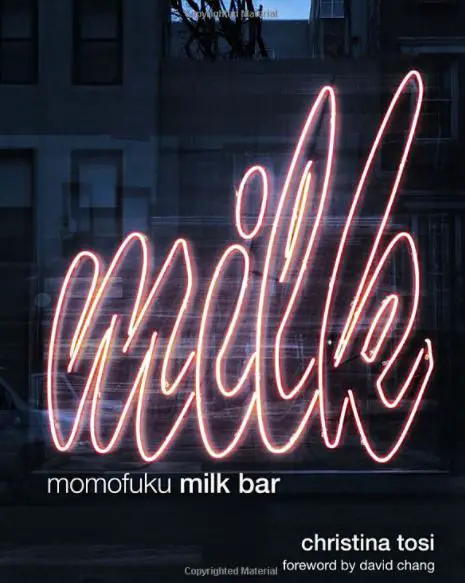 Net up from Christina was "Milk Bar, All About Cake". This book takes a look at cakes of all kinds and is great for both rookies and cake masters alike.
Christina's latest book is Milk Bar: Kids Only. This book is dedicated to the next generation of young bakers, with over 85 super-fun, super-easy recipes from Apple Pie Waffles and PB&J Cereal Treats to Choco Crunch Cookies, created to teach newbies the basics.
Family Life
Christina Tosi was born in Ohio and eventually raised in Virginia. She was born to an agricultural economist father and a mother that was accountant. She grew up cooking with her grandmother and always had roots in home cooking. In 2016, Christina married another New York food entrepreneur, Will Guidara. Together they own Eleven Madison Park and recently bought a $3.7 million home in New York.