During an investor relations day on Thursday, Domino's announced its plans to grow by 60% over the next six years.
At the end of the third quarter, Domino's claimed more than 15,300 stores around the globe. 2,000 of those stores will come in the US equating to about 30% store growth.
The new projected growth equates to almost 10,000 new stores. By comparison, Domino's added a little over 5,000 stores over the last six years.
The plan for rapid store development shows that the company and its franchisees are willing to play the long game. It is estimated that store growth has negatively impacted same store sales by at least 100bp.
Rapid growth includes a strategy called "fortressing". As franchisees split their territories with new units, the goal is to improve delivery times and frequency of carryout visits.
In turn, these activities may cannibalize existing stores, but over time, total store sales can penetrate even further.
New Strategy a Good Idea?
In a world where many franchisors are focused on store growth over profitability, it can be difficult to get franchisees on board.
This is an area where Domino's stands out. Domino's has reported that the average EBITDA of franchisees is quickly approaching $1 million, with an average of $136,000 per store.
Global cash-on-cash returns are running at better than a 3-year payback (likely ~2.5 years). With those unit-level economics, franchisees have also watched robust same store sale growth since 2010.
With strong comp growth and above-average unit economics, Domino's has rapidly taken share from peers. Trust has been formed, and this makes it easier for franchisees to get on board.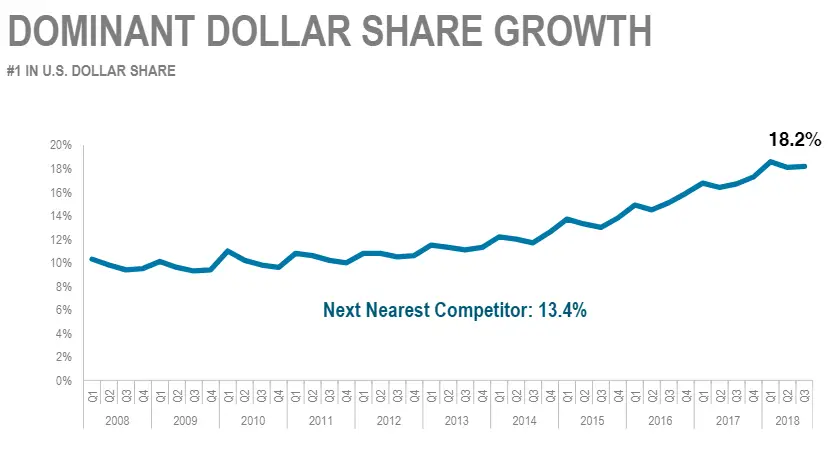 At the same time, other pizza peers have struggled to post positive traffic (and comps). Unit economics have also been under pressure. This enables Domino's to step on the gas even more. It will be interesting to watch if Domino's can execute this plan for the next leg of growth.
Watch CEO Interview w/ CNBC