Arby's somewhat stands in its own category selling roast beef sandwiches in a quick service format. In 1964, Forrest and Leroy Raffel, owned a restaurant equipment company but thought there was a market opportunity for a fast food franchise that wasn't based on hamburgers.
The brothers wanted to call their restaurants "Big Tex", but that name was already used by another local business. Instead, they chose the name Arby's, based on R.B., the initials Raffel Brothers, although it is often mistaken for Roast Beef.
The original Arby's was outside Youngstown, Ohio and served just Roast Beef Sandwiches, potato chips and soft drinks. At the time, they pursued a more upscale clientele, offering roast beef sandwiches for $0.69 when hamburger stands like McDonald's were charging $0.15 for a burger.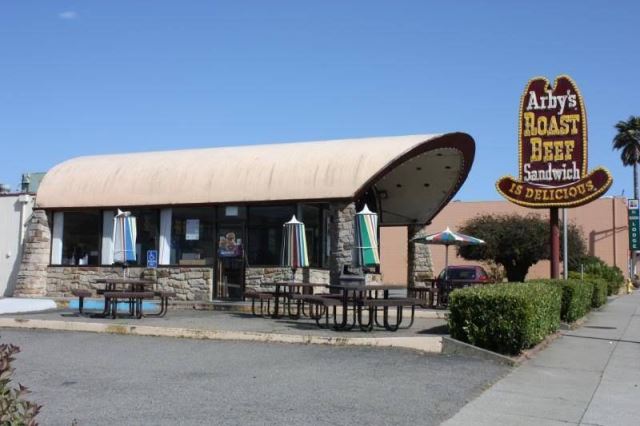 Today, Arby's is owned by Inspire Brands and boats over 4,000 locations. Unlike many other franchise brands, Arby's corporation still owns a large percentage of stores. That is expected to change over the coming years as the brand sells stores to new franchisees.
So you are interested in investing in an Arby's franchise and want to know what it costs? We reviewed the Arby's Franchise disclosure document (FDD), and the estimated initial investment ranges between $377,550 to $935,700 for a freestanding unit (leased), including a franchise fee of $37,500.
How Much Money Can you Make as an Arby's Franchisee?
So you shelled out somewhere in the ballpark of $935,000 for a new Arby's location. What kind of profits can you expect? To begin with, the average unit sales of an Arby's location comes in around $1,200,000. On those sales, you can expect about 12% profits (EBITDA margins) which equates to roughly $144,000 per location before paying for above store administrative expenses.
Is this a good investment? Well, if you make $144,000 on a $900,000 investment, that equates to a 16% return on investment. Is 16% good? You will need to compare this vs. other investment opportunities to determine that, but for restaurant investments it lands as an average opportunity.
Arby's Initial Investment Cost Breakdown
Below outlines how the initial investment breaks down.
Development Fee: $6,250 – $12,500
License Fee: $0 – $37,500
Training Fee and Expenses: $5,000 – $23,000
Site Costs: $1,000 – $4,500
Landscaping: $3,000 – $38,000
Civil & Architectural Drawings: $5,000 – $25,000
Building Costs: $1,000 – $174,000
Equipment: $180,000 – $250,000
Computer Hardware and POS: $20,000 – $50,000
Decor Package: $282,000 – $616,000
Pre-Opening Wages: $21,300 – $41,200
Opening Inventory: $18,000 – $26,000
Insurance: $7,000 – $12,000
Working Capital / Additional Funds: $33,000 – $100,000
Business Licenses, Health Permits, Utility Deposits: $1,000 – $25,000
Total Estimated Initial Investment: $377,550 – $935,700
Arby's Net Worth Requirement
Maybe you can find the money to build a new Arby's, but along with that Arby's is also going to check out your net worth. The current net worth requirement to become a Arby's franchisee is a liquidity requirement of $500,000 with net worth of $1,000,000.
Royalties, Advertising, and Other Ongoing Fees
Arby's royalty and ad fees amounts to just north of 8%. Here is how it breaks down:
Royalties: 4% at Traditional Restaurants and 6.2% at Non-Traditional Restaurants
Advertising and Marketing Service Fee: 4.2% of Sales
Here are some examples of what you can expect from your advertising dollars:
Financial Performance
Here is a high level breakdown of store level financial metrics:
AUVs: $1.22M
Cost of Sales: 30.3%
Labor Cost: 29.1%
Unit Controllable Expenses: 8.8%
Restaurant EBITDAR: 19.2%
Franchised Units: 2,197
Company Owned Units: 1,132
Total Outlets: 3,329