The Global chain that is Little Caesar's today started as a blind date between Mike Ilitch and Marian Bayoff that was arranged by Mike's father in 1954. Within a matter of months, the couple was married.
Five years later in 1959, and Mike and Marian invested their life savings into their first pizza store in Garden City, Michigan, a suburb of Detroit. Marian carefully recorded Little Caesars very first sales in a spiral notebook. Three years later, the first franchised location opened in Warren, Michigan.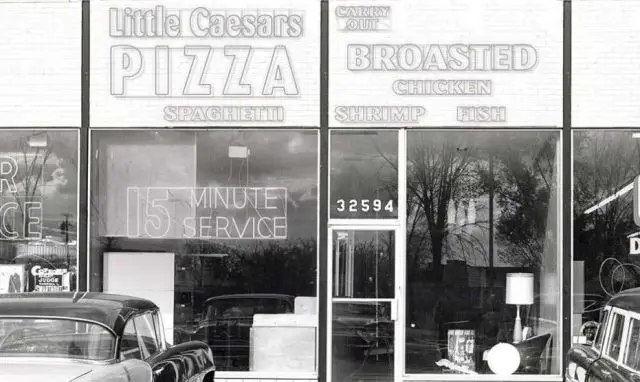 Today, Little Caesar's has become the third largest pizza chain in the United States, behind Pizza Hut and Domino's Pizza. It operates and franchises locations in the United States, Asia, the Middle East, Canada, Latin America, and the Carribean. At the end of 2019, there were 4,237 Little Caesar's locations in the United States.
So you are ready to become a franchisee and you are wondering what does it cost to start a Little Caesar's franchise? We reviewed the Little Caesar's Franchise Disclosure Document (FDD) and found that the estimated initial investment is $354,700 to $1,433,500 per location, including an initial franchise fee of $20,000.
How Much Money Does a Little Caesar's Franchisee make?
The average revenue of a Little Caesar's store is between $750,000-$800,000 per year. The home of the $5 hot and ready pizza tends to have sales that are lower than some of the other pizza concepts because it doesn't participate in a large delivery business. This likely happens from lower average price (dominance of $5 pizza) and higher number of pizzas sold.
The average EBITDAR of a Little Caesar's store is 17%. This amounts to profits of $127,500 per store before paying rent or taxes. A franchisee can expect to take home around $90,000 after paying rent.
Franchise Fee
The franchise fee at Little Caesar's is $20,000. This is towards the lower end of franchise fees in the restaurant space. Overall, delivery and carryout pizza tends to be towards the low end of restaurant investments.
Estimated Initial Investment
The initial investment is expected to be between $354,700 and $1,433,500. Given most of the stores will be inline units in shopping centers, we would expect most stores to open at the lower end of the investment range. Here is how it breaks down:
Franchise Fee: $20,000
Rent: $1,500 to $7,000
Leasehold Improvements: $50,000 to $750,000
Fixture Equipment and Signage: $186,000 to $392,000
Grand Opening Advertising: $12,000 to $20,000
Training Expenses: $12,000 to $16,500
Start-up Inventory and Supplies: $63,000 to $154,000
Insurance: $1,200 to $2,000
Utility Expenses: $1,000 to $5,000
Licenses and Permits: $1,000 to $20,000
Additional Funds: $17,000 to $47,000
Total: $354,700 to $1,433,500
Little Caesar's Net Worth Requirement
Maybe you can find the money to build a new Little Caesar's, but along with that Little Caesar's is also going to check out your net worth. The current net worth requirement to become a Little Caesar's franchisee is a liquidity requirement of $100,000 with net worth of $250,000.
Little Caesar's Franchise Cost for Disabled Veterans
If you are a service-disabled veteran, you may want to look into opening a Little Caesar's restaurant. As a disabled veteran, you may be eligible for discounted franchise fees and investment costs. The Little Caesar's disabled veteran program waives the franchise fee on your first store and gives you $10,000 credit towards equipment. On top of that, you will likely be eligible for marketing and financing support.
For veterans that are not disabled, you may be eligible for $5,000 reduction to your franchise fee and a $5,000 equipment credit.
Other Ongoing Costs – Royalty and Advertising Fees
The typical ongoing costs for any franchise brand include royalties and advertising fees. For advertising fees, many pizza concepts tend to be towards the higher end of ranges that we see. This happens because pizza brands participate in a large amount of national television advertising. At Little Caesars, the combined advertising and royalty rate comes in at 13% of sales.
Royalty: Greater of 6% for each one-week period or $100
Advertising Fee: 7% of Gross Sales
Here is a compilation of Little Caesar's ads over the years.
Is Little Caesar's a Good Investment?
In order to determine if something is a good investment, you must compare the return versus other options for deploying the same capital. At a $90,000 profit and a $354,000 investment, the initial return on investment for a Little Caesar's is just north of 25%.
Like many other pizza concepts, this return is stronger than many other restaurant concepts but a higher return on a lower investment. If 25% is better than you can invest elsewhere, then you may want to look into becoming a Little Caesar's franchisee!