In 1933, eighteen-year-old Vernon Rudolph, along with his brother Lewis Rudolph, began working for his uncle, Ishmael Armstrong, who owned a small general store in Paducah, Kentucky, that sold a wide variety of goods, including its very popular doughnuts. While the exact origin of the doughnut recipe remains partially a mystery, it is believed that Ishmael Armstrong was inspired by an Ohio River barge cook named Joseph LeBeouf who was famous for his light and fluffy doughnuts.
The store struggled during the Great Depression. In 1934, Vernon and Ishmael decided to move to the larger city of Nashville, Tennessee, where they hoped business would be better. The uncle and nephew focused solely on selling their doughnuts and opened "The Krispy Kreme Doughnut Company" in a rented store on Gallatin Road. The shop did so well that Vernon's father, Plumie, also left Kentucky and moved to Nashville to help sell doughnuts.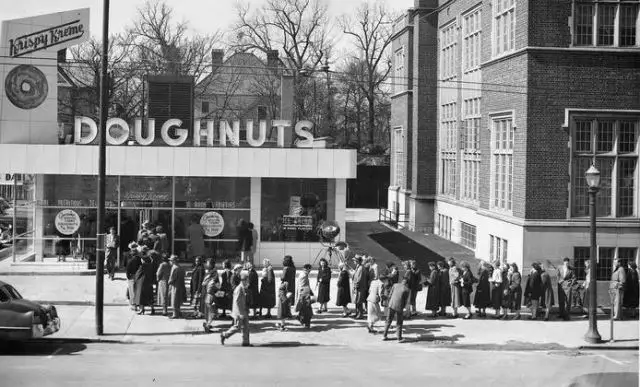 Krispy Kreme went on to open new stores and has been franchising their doughnut operation since the 1950s. For a short amount of time, no franchises were offered, but since 2007 the company has been offering franchises of their varying store concepts.
If you love hot donuts and want to invest in a Krispy Kreme franchise then you definitely are wondering what it costs. According to our review of the Krispy Kreme Franchise Disclosure Document, the total estimated investment ranges $1,287,500 to $2,750,000 for a factory store; $558,500 to $1,500,000 for a Tunnel Oven Shop; $440,500 to $1,200,000 for a Fresh Shop; and $1,617,500 to $4,115,000 for a Commissary Facility. This includes an initial franchise fee of $25,000
Doughnuts Being Made
How Much Money Does a Krispy Kreme Franchisee Make?
So let's say you have invested $1.75M to open a new Krispy Kreme Factory Shop and you are wondering how much money you will make? According to CNN, a Krispy Kreme can average $3.4M in sales per year. On that average, we would expect 15% EBITDA margins (profits), so an owner could make $510,000 in profits per location.
That's some serious dough! (see what we did there?) Is that a good investment? Well, $510,000 in profits on a $1.75M investment equates to a 29% return on investment. You will need to compare this return to other opportunities at hand, but maybe donut maker is in your future!
Franchise Fee
The initial franchise fee for a Krispy Kreme location is $25,000. This is in line with many other franchise fees for other restaurant concepts. This brand also carries a $25,000 development fee for franchisees that are seeking to develop multiple stores.
Estimated Initial Investment
As mentioned the total investment ranges from $1.2M to $2.75M for a factory shop. Here is how the initial investment breaks down:
Development Fee: $25,000 per store
Initial Franchise Fee: $25,000 per store
Real Estate Improvements: $20,000 to $75,000
Construction Costs: $600,000 to $1,600,000
Equipment/Signage/Furniture/Fixtures: $135,000 to $230,000
Truck: $25,000 to $50,000 per truck
Equipment and Displays: $90,000 to $100,000
Initial Inventory: $40,000 to $50,000
Production Equipment: $175,000 to $380,000
Grand Opening Marketing Program: $25,000 to $45,000
Training Expenses: $45,000 to $50,000
Security Deposits and Other Pre-Paids: $7,500 to $20,000
Additional Funds (3 Months): $75,000 to $100,000
Total: $1,287,500 to $2,750,000
Krispy Kreme Net Worth Requirement
Maybe you can find the money to build a new Krispy Kreme, but along with that Krispy Kreme is also going to check out your net worth. The current net worth requirement to become a Krispy Kreme franchisee is a liquidity requirement of $300,000 with net worth of $2,000,000.
Number of Stores
At the end of 2017, there were 338 stores, 218 of which were franchised. This is a relatively low number of franchised stores. In the franchise world, this is pretty low. Also, the stores skew towards corporately owned. This can be seen as a positive as the franchisor will have aligned incentives with franchisees.
Average Store Size
The average site size is between 27,000 to 50,000 square feet and the building is between 2,700 and 3,500 square feet. The size of this building is typical of a fast food freestanding restaurant location.
Ongoing Fees
The typical ongoing fees for a franchise include a royalty fee and advertising fees. Here are some of the fees that will be paid back to Krispy Kreme:
Royalties: 4.5% of Net Sales
Brand Fund: Up to a Max of 2% of Net Sales
Advertising Placement Fund: Up to a Max of 1% of Net Sales
Local Advertising: At least 2.5% of Net Sales
Local and/or Regional and/or National Ad cooperatives: U to 3% of Net Sales
For you advertising dollars, you can expect some ads like this: