Did you recently find out that you have a gluten sensitivity, celiac or just trying a new diet? You have likely figured out that eating out gluten free can be one of the most difficult parts of the diet. I have a few celiac members in my family, so I wanted to do some research for places to eat.
Eating Gluten Free Fast Food Restaurants
Although many fast food restaurants have tried to implement some sort of gluten free items, we found nice options for gluten free eating at Arby's, Burger King, Captain D's, Chick-fil-a, Domino's, Five Guys, Papa John's, Pizza Hut, Popeyes, Wendy's, and Jersey Mikes.
Gluten Free Arby's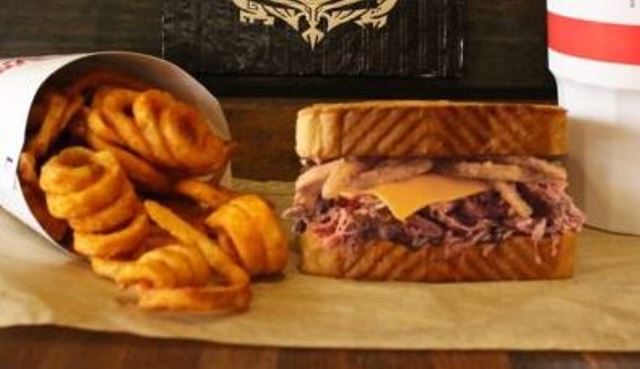 Arby's goes to lengths to produce a list of items that are without gluten. This means no wheat, barley (malt), rye, or oats. You can find the list here. They also caveat many sauces and condiments that may change from time to time and some may contain maltodextrin from a corn sauce.
As far as the meats, Arby's considers angus beef, corned beef, pepper bacon, roast beef, pit-smoked ham, roast turkey, and smoked brisket as gluten free. They also note that most chopped salads are gluten free (beware dressings) as well as the milkshakes of jamocha, chocolate and vanilla. For breakfast, you can consider breakfast bacon, sausage patties, and scrambled egg patties as gluten free.
Gluten Free Chick-fil-a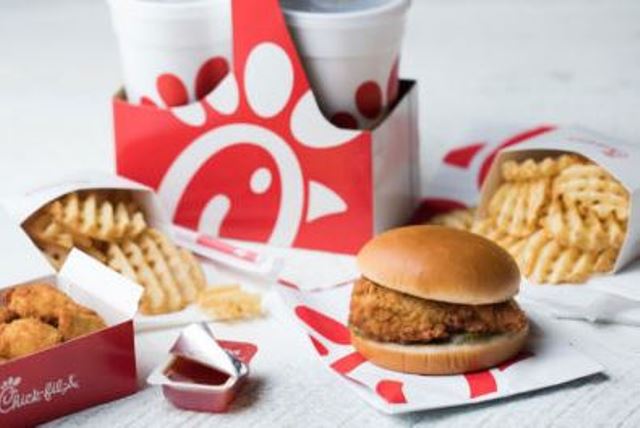 When it comes to Chick-fil-a, there is a feel to it that makes it feel more healthy. Therefore, you shouldn't be surprised that they are serving up some nice gluten free options. Mostly Chick-fil-a is known for their chicken and waffle fries, so the big question is if you can get these items gluten free?
When it comes to chicken at Chickfila, unfortunately the fried chicken is not going to be gluten free. That said, Chick-fil-a serves a fantastic grilled chicken that comes in both sandwich and nuggets and is gluten free. Chick-fil-a also paid attention to the bun and offers a gluten free bun as a substitute (warning: it is a little more expensive) When it comes to fries, these are also gluten free friendly. While the chicken is cooked in peanut oil, the fries are cooked in canola oil, a separate fryer from where that fried chicken hangs out. No worries about cross contamination! Chick-fil-a also notes that most of its sauces are gluten free, but check the website to make sure your favorite sauce is on the list.
Gluten Free Burger King
Burger King isn't the most gluten free friendly establishment, but there are a few options if you end up there. If you are willing to order without a bun, you can safely order the Whopper, Whopper Jr, Hamburger, Cheeseburger and Tendergrill Cicken. For sides, you can order Fresh Apple Slices, French fries (may be fried with gluten containing items) and the garden fresh salad with tendergrill chicken.
For desserts, you can order either a chocolate, vanilla or strawberry milkshake. you can also order soft serve ice cream, a caramel sundae, a chocolate fudge sundae, or a strawberry sundae.
Gluten Free Captain D's
If you are wanting a little seafood, just know you are going to have to avoid the fried foods. From a fast food perspective, this can be pretty difficult, but Captain D's has many options for you.
Given the many grill options, there are many gluten free items to pick from at Captain D's. As far as entrees, you can go with wild Alaskan Salmon, Wild Alaskan Salmon Salad, Shrimp Skewers, Premium Shrimp, Seasoned Tilapia, or Shrimp Scampi. For sides, you can choose from brocolli, sliced cheese, corn on the cobb, green beans, side salads, roasted red potatoes, and many of the sauces.
Gluten Free Domino's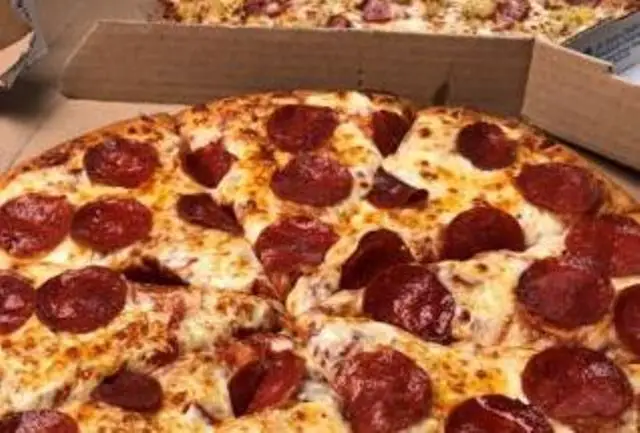 Craving pizza? Just a few years ago, a good gluten free pizza was tough to come by. Today, you will notice that we have many pizza players on our gluten free list.
Domino's Gluten Free Crust contains no wheat, rye, or barley and has a gluten content of less than 20ppm. That said, all pizzas are made in the same kitchens; and even as clean as they are kept, there may be trace glutens present. Therefore, it wouldn't be entirely honest to guarantee that pizzas made with this crust are absolutely gluten free. Domino's doesn't recommend eating these for people with serious gluten sensitivity.
Gluten Free Dunkin' Donuts
Ok, so I'll cut to the chase and you aren't going to get some Donuts on your gluten free diet. That said, you can still go and enjoy a cup of coffee and a light breakfast at Dunkin'. Your food options are going to be pretty limited with hash browns or oatmeal. That said, you are going to be able to go for a more exciting drink option.
Here are all the teas that are gluten free: iced black tea, iced green tea, iced sweet tea, fruit iced tea, and vanilla chai.
For frozen drinks, you are good to go with frozen coffee, frozen chocolate, frozen dunkaccino, frozen vanilla chai, strawberry coolatta, blue raspberry coolatta, vanilla bean coolatta, cosmic strawberry coolatta, cosmic grape coolatta, cosmic cotton candy coolatta, cosmic pineapple coolatta, grape coolatta, cotton candy coolatta, pineapple coolatta, orblue raspberry coolatta
For hot drinks you can have hot coffee (original, dark, decaf), an americano, a lattee, a macchiato, a cappuccino, an espresso, or a hot chocolate
You can even indulge in Gluten Free Dunkin Flavor Swirls including caramel swirl, french vanilla swirl, hazelnut swirl, mocha swirl, pumpkin swirl, hershey's cookies 'n creme swirl, heath swirl, or pistachio almond swirl
Gluten Free Five Guys
Are you craving a burger and fries but struggling to find a good spot? Many fries are fried in the same fryer as other foods but not at Five Guys. Five Guys fries their fries in peanut oil and doesn't cross-contaminate with other foods. Five guys also doesn't mix in a bunch of artificial ingredients into their menu items, so you don't have to worry about that hidden gluten somewhere.
On top of that, most other items are gluten free friendly. The only items that aren't are the bun and a few milshakes (ie Oreo) Someone should convince them to bring a gluten free bun, or maybe you can bring your own.
Gluten Free Papa John's
Papa John's was one of the late bloomers for pizza chains when it came to adding a gluten free crust. That said, the pizza chain rolled out their gluten free crust a few years ago, and it has stayed on the menu.
Operationally, Papa John's employs procedures to prevent contact with gluten, and while the crust is prepared in a separate, gluten-free facility before being shipped to stores, it is possible that a pizza with gluten-free crust could be exposed to gluten during the in-store, pizza-making process. Therefore, the brand does not recommend its Gluten-Free Crust made with Ancient Grains for customers with Celiac Disease or serious gluten intolerances.
Gluten Free Popeyes
Popeyes fried chicken and gluten free? How are those two things in the same sentence? Well, don't be fooled. You still can't eat fried chicken, but there are some things you can eat if you have a friend craving the new chicken sandwich.
You will have to stick to the side items if you want to eat gluten free at Popeyes. Those sides include red beans and rice, the famously good sides at Popeyes that rightly could be a meal on their own if they wanted to be. You can also get corn on the cobb, coleslaw and applesauce.
Gluten Free Wendy's
Many fast food burger joints are famous for burgers and fries but don't venture much further with their side options. Wendy's is a little different because of their expanded sides offerings. The main offerings here are baked potatoes (including bacon cheese) and chili are gluten free. From the burger side, you can also go bunless if you need a full gluten free meal. The fries are not in a dedicated fryer, so you will have to avoid those.
Gluten Free Jersey Mikes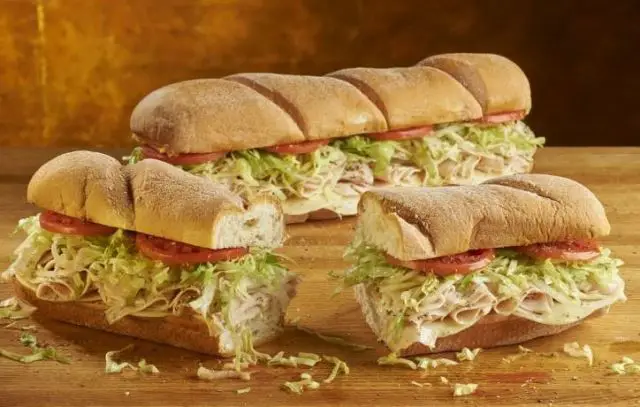 Most sub sandwich shops are difficult if you are gluten free because the main attraction is the bread. You can go for a salad of ingredients of sort, pumping ingredients together that are gluten free. That said, Jersey Mikes is one of the only sub shops that has introduced a gluten free bun. This is a game changer, and we haven't seen any other sub shops try to catch up. After all, if you are in the mood for a sandwich, that likely includes a bun.
Eating Gluten Free at Sit Down Chain Restaurants
Although many restaurants have tried to implement some sort of gluten free items, the ones that we have found to be the most gluten free friendly are BJ's Restaurant Brewhouse, PF Changs, Bonefish Grill, Outback Steakhouse, Uno Pizzeria & Grill, California Pizza Kitchen, Panera Bread, Red Robin and Chipotle.
Gluten Free BJs Restaurant Brewhouse
BJs has long offered a gluten free crust on its pizza. They adopted this well before many of the national chains started. Here is what they have to say:
"BJ's Restaurant & Brewhouse is known far and wide for our BJ's Deep Dish Pizza–and we want those on gluten-free diets to be able to enjoy it, too. That's why we offer pizzas made with crust that contains no gluten. Additionally, all of our BJ's classic ingredients (with the exception of our meatballs) are gluten-free, so you can customize your pizza the way you like it. At BJ's Restaurant & Brewhouse, we believe that Craft Matters–and that extends to our gluten-free pizzas. We make them with the same care and skill that we make all our other pizzas, so you're sure to enjoy your meal. Everyone should be able to experience our famous pizza, and our gluten-free crust makes this possible. Head to BJ's Restaurant & Brewhouse today and prepare to be impressed!"
Gluten Free PF Changs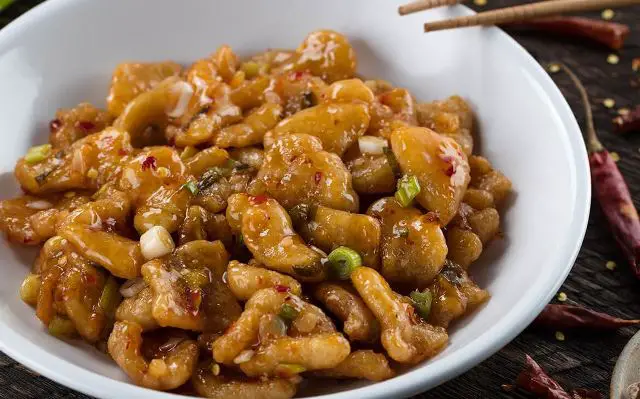 PF Changs is known for their Asian cuisine and many times this isn't gluten free friendly. That said, PF Changs has one of the most gluten free friendly menus around. You can get
wok-seared spinach,
chang's spicy chicken,
ginger chicken with broccoli,
chicken pad thai (rice noodles),
chang's lettuce wraps,
mongolian beef,
beef with broccoli and
fried rice.
It's likely that you won't even notice that you are eating gluten free at PF Changs
Gluten Free Bonefish Grill
Out of many chains, Bonefish puts out a very large gluten free menu here.
For starters at Bonefish, you can get Prince Edward Island Mussels, the Bonefish House Salad, the Classic Caesar Salad, the Bonefish Cobb Salad, and Grilled Salmon Superfood Salad gluten free. In the grilled fish category, you can get Chilean Sea Bass, Atlantic Salmon, Baja Striped Bass, Georges Bank Sea Scallops & Shrimp, and Rainbow Trout.
From the Land, you can get gluten free Filet Mignon, a Bone-in Ribeye Steak, the Angler's Sirloin Steak and Lilly's Chicken. You can also get Lobster tails and Dynamite-Style Shrimp. You won't be left behind on sides or brunch either. For sides you can order garlic whipped potatoes, seasonal vegetables, or jasmine rice. For brunch, you are safe with saucy shrimp & grits, an Oscar omelet, or a california omelet.
Gluten Free Outback Steakhouse
Outback Steakhouse is serious about gluten-free. For over a decade they have designed gluten-free options for those who need and chose to eat gluten-free. They employ Registered Dietitians to work closely with their chefs to create a variety of gluten-free options including – salads, steaks, chicken, seafood, ribs, fresh vegetables and our famous gluten-free dessert the Thunder from Down Under – with the same care and quality as every menu item we create.
You can download the entire gluten free menu here. This includes the big bowl salads, the filet, the ribeye, the bone-in ribeye, a chicken & ribs platter, grilled chicken on the barbie, alice springs chicken, pineapple and pork medallions, and baby back ribs. From the sea, it includes grilled salmon, lobster tails, and botany bay tilapia. Many of the sides are on the gluten free menu as well including mashed potatoes, the baked potato, sweet potatoes, fresh seasonal veggies and mixed veggies.
Gluten Free Uno Pizzeria
Another big pizza chain, Uno Pizzeria has developed a gluten free crust. That said, they try to limit cross contamination. Here is what they say.
These items are made with gluten-free ingredients and are prepared with an effort to limit cross-contamination. While they are prepared with gluten-free designated utensils, many are cooked on shared equipment so we cannot completely eliminate the risk of cross-contamination. Please alert your server if you have an allergy or gluten sensitivity.
At Uno's you can also go with many salads, beef chili, salmon, grilled shrimp, and multiple steaks that are also gluten free.
Gluten Free California Pizza Kitchen
Sometimes there is gluten free pizza, and sometimes there is certified gluten free pizza. California Pizza kitchen just so happens to fall in the category of certified gluten free. Certified gluten-free means something to anyone that is really serious about avoiding gluten. In order to get this certification, the pizza must be prepared using strict guidelines.
California gets this standard by using certified gluten free ingredients verified by suppliers as gluten free. The restaurant also has certain procedures in place to avoid the cross contamination with gluten containing pizzas. This is the highest standard that you could hope for in your search for truly gluten free pizza.
There are five pizzas that pass for "certified gluten free" at California Pizza Kitchen. Those pizzas include
Original BBQ Chicken Pizza,
Pepperoni Pizza,
Mushroom Pepperoni Sausage Pizza,
Margherita Pizza
Traditional Cheese pizza.
The restaurant will not certify any other combinations of pizzas as gluten free. These pizzas also come as a cauliflower crust only. For a while they served a rice flower pizza but discontinued that a few years ago.
Gluten Free Panera Bread
For a company with bread in the name, you wouldn't expect an extensive gluten free menu. That just doesn't happen to be the case. Panera still makes the case that there could be some cross contamination in items but gluten free items include plenty of options:
Warm Grain Bowls including Baja Warm Grain Bowl with Chicken, Baja Warm Grain Bowl, the Mediterranean Warm Grain Bowl with Chicken, and the Mediterranean Warm Grain Bowl
Gluten conscious Salads including the Strawberry Poppyseed Salad with Chicken, the Greek Salad, the Seasonal Green Salad, Fuji Apple Salad with Chicken, Modern Greek Salad with Quinoa, Green Goddess Cobb Salad with Chicken, Southwest Chile Lime Ranch Salad with Chicken, Caesar Salad (no croutons) and the Caesar Salad with Chicken (no croutons)
Soups without gluten including the Summer Corn Chowder, the Southwest Chicken Tortilla Soup, the Baked Potato Soup, and Vegetarian Creamy Tomato Soup (order without croutons)
Breakfast items including Steel Cut Oatmeal with Almonds, Quinoa & Honey, Steel Cut Oatmeal with Apple Chips and Pecans, Steel Cut Oatmeal with Strawberries, Pecans, and Cinnamon Crunch Topping, Greek Yogurt with Mixed Berries, Coconut Macaroon, and Triple Chocolate Cookie with Walnuts
Gluten Free Red Robin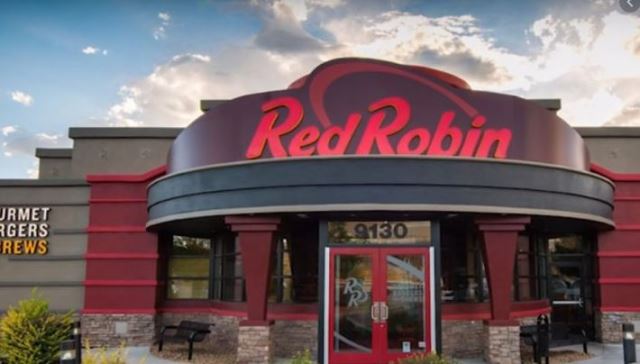 For a shop that focuses on burgers and fries, Red Robin definitely goes the extra mile by using Udi's gluten free buns and lettuce wraps. These are also available for all sandwiches and burgers. These include:
The Wedgie Burger
Smoke & Pepper Burger
The D.G.B
The Marco Polo
Bruschetta Chicken Sandwich
California Chicken Sandwich
Simply Grilled Chicken Sandwich
Additionally, Red Robin uses an additional fryer for their fries at most restaurants. You should always ask, but we find this to be the case at most locations. This keeps the cross contamination to a minimum.
Red Robin also advertises multiple appetizers as gluten free although I don't love the ideas of these apps with no chips. These include:
Chili con queso (no chips)
Guac and salsa no chips
Heck-yeah Hummus Plate (no croutons)
Gluten Free Chipotle
Chipotle, because of the make it yourself concept and whole foods, tends to be pretty gluten free friendly. As long as you can go without the tortilla, you should be in good shape. Here's what is listed as gluten free on the menu:
Black beans and pinto beans
Cilantro-Lime Rice (white and brown)
Tomatoes
Guacamole
Lettuce
Salsa (all kinds)
Steak
Chicken
Sofritos (vegan)
Saute Veggies
Cheese
Sour Cream
Chips
Chipotle also offers up some bowls for other diets including the Whole30 Salad Bowl, the Steak Keto Salad Bowl, the Chicken Keto Salad Bowl, the Paleo Salad Bowl, the High Protein Bowl, the Vegan Bowl, and the Vegetarian Bowl
Tips for Staying Gluten Free at a Restaurant
1. Don't be afraid to speak up
The good news is that you probably aren't the first gluten free diner. The bad news is that everyone you speak to at the restaurant may not understand exactly what items contain gluten.
Make your server your ally and try to be nice.
2. Select the right restaurant
Many restaurants are going to be difficult to adhere to strict gluten free. It is best to do some research and know some places before you ever leave the house.
3. Understand Trap Foods
Many foods may seem like they are gluten free on the surface, but one item can easily throw off the meal. Be on the lookout for these trap foods.
Salads: The possibility of contamination lies in the cleanliness of the boards used to chop ingredients and the addition of croutons or salad dressings containing unsafe ingredients. Ask for dressing to be served on the side.
Salad Dressings: Salad dressings and marinades may contain thickeners or other unsafe ingredients. Maybe order oil on the side or bring your own dressing.
Soups: Soup bases are often used as a foundation for soups and sauces. Bases contain ingredients comparable to bouillon or broth and may contain traces of gluten.
Steak cooking marinade: Steak or other meats may cook in a marinade before the finished product is served. Be careful here.
Fried Foods: The oil used to deep-fry foods may be used for both breaded and non-breaded items, in which case they should be avoided. In large restaurants where French fries are cooked in separate fryers, there is less chance of contamination.
Cross Contamination: If you have a severe allergy, many places will cook and prepare foods in the same spot as their gluten counterparts.