Born in 1968, Rachel Ray was born to bring us easy meals at home. She spent most of her early career in and out of various restaurants before becoming the television personality, businesswoman and celebrity cook that she is today. Given all this success, many will wonder how much money Rachel has.
So what is Rachel Ray's Net worth? According to Business Insider, Rachel has a net worth of approximately $80 million. Other souces point to a net worth of greater than $100 million from both tv, cookware and book sales. Given that, she is one of the most successful chefs to come from the Food Network.
Early Career through Today
Before Rachel got her big break as a TV chef, she was a waitress and has a family history in the restaurant industry.
Growing up in New York, her mom managed several restaurants in the area. Eventually, Rachel moved back to New York at the age of 27 and worked in several food stores. Among these included Macy's and Agata & Valentina.
While working at a gourmet food market, she came up with the idea for "30 Minute Meals" The idea was driven by trying to convince people to cook for themselves (with grocery food) instead of going out to eat.
She began to show the concept in the store, giving live cooking lessons in front of customers. After doing these for a while, a local news station approached her to start giving her lessons on live tv instead.
Not soon thereafter, Rachel was noticed by both the Food Network and the Today show. "30 Minute Meals" wen ton to run for 11 seasons on the Food Network starting in 2001.
From 2001 through 2012, Rachael focused on the show while also appearing wherever she could. She became a staple on the Oprah show which led to her own talk show called Rachael Ray. She also has gone on to be a part of Rachael Ray's Tasty Travels, $40 a day.
Rachael Ray Cookbooks
Launching from her original concept of "30 Minute Meals", Rachael launched her first book in 1999 called 30 Minute Meals.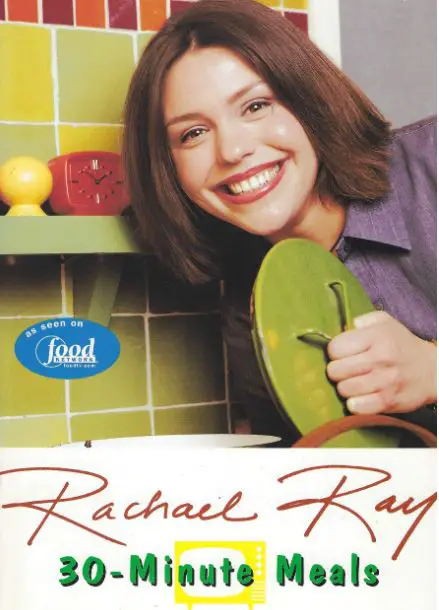 Rachael has gone on to create another 25+ books over the last 20 years. If you want to cook like Rachael, you don't have any excuses!!