The story of Dunkin' Donuts began in 1948 with a donut and coffee restaurant in Quincy, Massachusettes called "Open Kettle". Founder William Rosenberg served donuts for five cents and a premium cup of coffee for ten cents. After a brainstorming session in the company, it was renamed Dunkin' Donuts in 1950. The goal was simple, to make and serve the freshest, most delicious coffee and donuts quickly and courteously in modern, well-merchandised stores.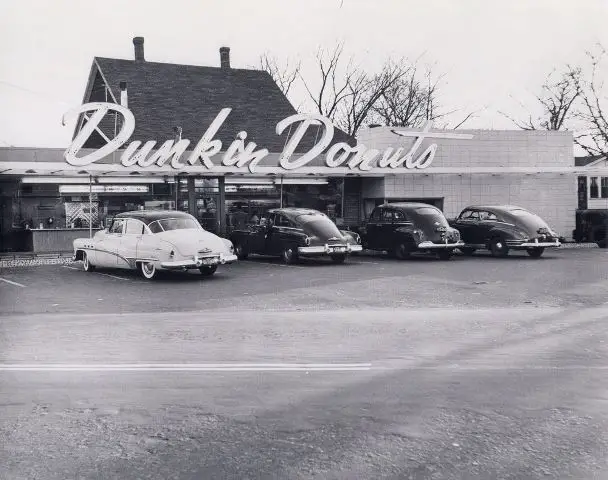 Five years after the name change, Dunkin' Donuts began franchising stores and quickly grew to 100 stores within ten years. Since 1950, the number of Dunkin' stores has expanded to greater than 12,000 stores worldwide, with locations in 45 countries.
The company serves approximately 1.9 billion cups of hot and iced coffee per year and hopes to double its US presence to land at a total of 17,000 restaurants worldwide. Franchising is a big part of that growth story.
So you are ready to take a look at franchising a Dunkin' Donuts business but wondering what it costs? We reviewed the franchise disclosure document (FDD) for Dunkin' and found that the average freestanding store costs and initial investment of between $245,000 – $1,717,103, including a franchise fee of $40,000 and excluding real estate costs.
BuzzFeed Ranks the Donuts
How Much Money can you Make as a Dunkin' Donuts Franchisee?
Now that you have put out the initial investment for a new Dunkin' franchise location, how much money can you expect to make? The average freestanding restaurant sales for 2017 were $1,299,922 for stores with a drive-thru and $1,041,001 for stores without a drive-thru. On that $1.0M to $1.3M, average profitability was 22.7% EBITDAR and likely 17% EBITDA. That equates to roughly $175,000 – $200,000 in profits per location.
So is that a good return on your investment for a Dunkin' franchise? At $200,000 in profits and $1,000,000 in building costs, that is roughly a 20% return on investment. Food costs are somewhat lower for donuts and coffee than a typical menu, often with food costs in the range of 20-25% vs. 30% for other eateries.
Is a 20% return a good return on your capital investment? That's up to you decide. If you have $1,000,000 in your pocket and alternative investments return less than 20% then you may want to look into a Dunkin' franchise investment.
How Donuts are Made
Initial Franchisee Fee
The initial franchise fee ranges from $40,000-$9,000. This franchise fee covers the initial franchise term of 20 years. The franchise fee at Dunkin' differs a little from the typical flat cost franchise fee. Dunkin' charges different fees based on geography. Typically, new units outside the Northeast will be towards the lower end.
Other costs in the Initial Investment
Here is how the $245,000 – $1,717,103 initial investment breaks down:
Initial Franchise Fee: $40,000-$90,000 (20 year term)
Building Costs: $90,000-$588,653
Site Development Costs: $3,900-295,500
Additional Development Costs: $4,700-$150,000
Equipment, fixtures and Signs: $54,000-$269,250
Electronic Cash Register / Retail technology: $24,700-$61,000
Opening Inventory: $8,000-$20,000
Misc. Opening Costs: $9,500-$70,000
Licenses, Permits, Fees & Deposits $3,500-$5,500
Uniforms: $400-$1,200
Insurance: $4,500-$16,000
Travel and Living Exp while training: $2,000-$35,000
Marketing Start Up: $0-$10,000
Additional Funds for First 3 Months of Operations: $0-$105,000
Total: $245,200-$1.717,103
Dunkin' Donuts Net Worth Requirement
Maybe you can find the money to build a new Dunkin', but along with that Dunkin' is also going to check out your net worth. The current net worth requirement to become a Dunkin' franchisee is a liquidity requirement of $125,000 with net worth of $250,000.
Royalty and Advertising Rates
Further, here are what the financials look like below the top line:
Ongoing franchise fee: 5.9% of gross sales
Continuing Advertising fee: 5.0% of gross sales
Average Cost of Goods: 26.8%
Average Labor Cost: 27.6%
What do you get for your advertising dollars? Here are some of the types of commercials to expect:
The company also breaks out sales, development costs, etc for stores that are not freestanding. Those numbers are generally lower than the freestanding stores.
Dunkin' Donuts History
Today, Dunkin' serve more than 3 million customers each and every day. True to the name, Dunkin offers 50+ varieties (see below) of donuts, but they also offer premium beverages, bagels, breakfast sandwiches and other baked goods.
Dunkin' was founded in 1950 by Bill Rosenberg in Quincy, Massachusettes. Just five years later, the first store had expanded into its franchise legacy of today.
Dunkin is still headquarted nearby in Canton, Mass. Given the location, Dunkin' is really popular in the Northeast but is quickly expanding outside the region.
There are more than 11,300 restaurants worldwide. Over 8,500 restaurants are spread across 41 states in the United States. 3,200 international stores are spread across 36 countries.
Dunkin' Name Change
From 1950 to 2019, the company was known as Dunkin' Donuts.
In September 2018, Dunkin' Donuts officially announced that it would shorten its name to Dunkin' with a wider roll-out beginning on January 13, 2019.
The company acknowledged that "Dunkin'" was already a common shorthand name for the chain among customers and in its marketing.
Dunkin' has used the marketing of "America runs on Dunkin'" To that end, the rebranding would reflect the chain's continuing shift towards being a "beverage-led" brand at a time when consumers have shown a preference for healthier trends and options as they consume fewer donuts. That said, the company will continue to offer its fantastic assortment of donuts.