The iconic Colonel Sanders (Harland Sanders) failed at a lot of things early in life. From working as a steamboat pilot to farmer and railroad fireman, he struggled to find his true passion. Then at age 40, in 1930, he bought the roadside motel in Corbin, Kentucky and began serving his fried chicken made with 11 herbs and spices that is still used today.
The Colonel kept the recipe secret and opened his first franchised location in 1952 in Salt Lake City, Utah. A few years later, he sold his original restaurant and hit the road to sign up franchisees.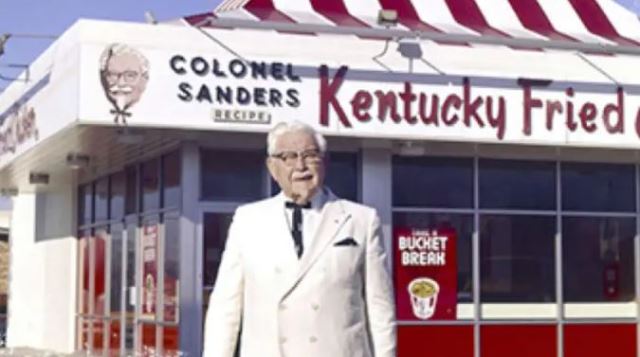 KFC continued its push to franchise stores and today is one of the largest restaurant chains in the world and owned by Yum Brands (parent to Taco Bell and Pizza Hut) Today, it boasts more than 21,000 stores across the world in more than 130 countries. More than 4,000 of those units are located in the United States.
If you love KFC fried chicken and want a piece of the action, you are likely wondering what a franchise will cost you? We reviewed the KFC Franchise Disclosure Document and found that the cost to build a new KFC ranged from $1,442,550 to $2,771,500, including an initial $20,000 franchise fee.
How Much Money can you Make as a KFC Franchisee?
So you have shelled out north of $1.5 million. What should you expect next? Well, the average sales of a KFC location in the United States is just north of $1.2 million. On those sales, you can expect around 13% EBITDA margins per location. That amounts to $195,000 in profits (EBITDA before paying above store general and administrative costs) per location.
Is that a good return on investment? Well, $195,000 return on a $2,000,000 investment is right around 10%. Can you get better than a 10% return on your capital investment elsewhere? If so, maybe you want to look elsewhere.
Like the idea of owning a fried chicken concept, check out Popeye's Louisiana Kitchen Franchise Costs Here.
KFC Estimated Initial Investment Cost Breakdown
The total investment to build a KFC ranged between $1,442,550 and $2,771,500. The average KFC store did $1,229,719 in sales. The estimated breakdown of initial investment breaks down below:
Background check fee: $350 to $500 per person
Deposit Fee: $20,000
Options Fee $25,000
Training Expenses: $7,000 to $10,000
Permits, Licenses & Security deposits: $50,000-$100,000
Real Property: $400,000-$1,000,000
Building & Site Costs: $534,000-$930,000/$100,000-$380,000 (assume 1,700-3,000 square foot store)
Equipment Signage: $329,000-$476,000
Start-up inventory: $10,000
Grand Opening Expenses: $5,000
Insurance: $7,250
Miscellaneous: $5,000-$10,000
Additional Funds: $50,000-$75,000
Total Estimated Expenditures: $1,442,550-$2,771,50
KFC Net Worth Requirement
Maybe you can find the money to build a new KFC, but along with that KFC is also going to check out your net worth. The current net worth requirement to become a KFC franchisee is a liquidity requirement of $750,000 with net worth of $1,500,000.
Royalties, Advertising Fees, and Other ongoing Costs:
Other ongoing costs include:
Royalty: 4-5% of Gross Revenue ($1,260 per month minimum)
National Co-Op: 4.5% of Gross Revenues
Cost of Product: 30.4% of Sales
Cost of Labor: 28.4% of Sales
What can you expect to get for your ad dollars? The Colonel has made it back lately in various forms. Take a look at what KFC has been doing lately:
KFC Training Costs
That is a lot of training fees, but that includes working in stores and heading to Louisville, KY. It takes a lot of work to learn how to make that chicken! In fact, the Colonel is no longer around, but in spirit he can still teach you how to make that chicken: