Like most corporate success stories, Domino's started out small – with just one store in 1960. However, in 1978 the 200th Domino's store opened, and things really began to heat up. By 1983 there were 1,000 Domino's stores and 5,000 in 1989. Today, there are over 17,100 stores – including more than 10,000 outside the United States.
Sure, it took more than 50 years to get to this point, but the trip was well worth it. Over the years, Domino's has been known to promote franchisees through the ranks, and today the Domino's Franchise has quickly become one of the most popular pizza franchises in the United States. At the end of 2017, Domino's Pizza Had over 6,000 restaurants in the US.
So you are ready to start making some dough (see what we did there) The total estimated cost to start operating a Domino's traditional pizza store ranges from $102,950 to $569,000. The initial franchise fee to open a Domino's store is $10,000. The ongoing royalty fee paid to the franchisor is 5.5% of the store's weekly sales. The ongoing advertising fund fee is 4% of Store's weekly sales. The ongoing advertising cooperatives paid to the franchisor include 1-4% of sales.
Pizza franchises tend to be towards the lower end of the investment spectrum, and in Domino's 90% of franchisees were formerly deliverymen or entry-level workers according to CNN.
Take Rob Cookston for example. Rob started working at Domino's Pizza as a delivery driver 30 years ago while in college. He needed extra spending money and was bringing home $500 per month as a delivery driver. That was great for a 19 year old.
Soon, Rob heard that store managers could make upwards of $100,000 per year and the light bulb started to click. If that was enough, he eventually saw the franchisee driving around in a yellow Ferrari! Rob knew he was on to something and went on to enroll in the manager training program. Today, Rob has 18 franchised locations.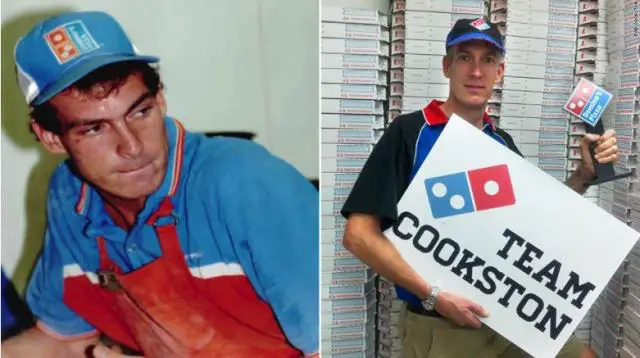 Domino's Initial Investment Cost
The total estimated cost for Domino's franchise restaurant ranges between $102,950 to $569,000. Like most restaurants, the majority of the costs come from leasehold improvements, furniture, fixture and equipment. Here is how the cost breaks down:
Initial fee: $0 to $10,000
Leasehold Improvements: $25,000 to $225,000
Furniture, Fixtures and Equipment: $81,000 to $145,000
Signage: $5,200 to $35,000
3 Month's Rent: $3,000 to $25,000
Security Deposit: $1,000 to $10,000
Opening Inventory & Supplies: $2,750 to $6,500
Opening Advertising and Promotion: $0 to $3,000
Training Expenses: $1,000 to $3,000
Domino's Pulse Training Expenses: $1,500
Insurance: $13,000 to $25,000
Misc Opening Costs: $2,500 to $7,000
Additional Funds – 3 Months: $10,000 to $73,000
Total Estimated Initial Investment: $145,950 to $569,000
Domino's Net Worth Requirment
Maybe you can find the money to build a new Domino's, but along with that Domino's is also going to check out your net worth. In order to build a new Domino's, they are are going to require at least $75,000 in liquid assets. They are also going to require a net worth of $250,000. This isn't chump change, but it also falls at the low end for popular restaurant franchises.
How Much Money Does a Domino's Franchisee Make?
Currently, the average Domino's restaurant generates just shy of $1,000,000 per year, $978,000. On that revenue, the average store generates $140,000 in profits per store (14.3%) This earnings of the franchisee is before interest, taxes or any general and administrative expenses outside the store.
Is the Domino's Franchise a Good Investment
We don't offer financial advice, so you should work with a financial adviser or accountant to determine a wise investment, but here are the parameters for how to view the investment.
As a Domino's restaurant costs around $350,000, the $140,000 profits leads to a 40% return on investment. This is one of the quickest payback periods seen in a franchised restaurant.
To decide whether you should consider this a "good" investment, you should compare this potential return to other opportunities available. If 40% is greater than those opportunities then this may be a good investment for you.
Domino's Location Counts
With over 6,000 locations today, here is how the store counts break down over the last few years. At the end of 2018, there were 5,904 restaurants. 5,514 of these stores were franchised, and 390 were company-owned. Here is a summary of the breakdown:
Domino's Royalty
The ongoing royalty to the franchisor of 5.5% of weekly sales is paid via electronic funds transfer by Thursday of each week on royalty sales for the week ending on the preceding Sunday. Royalty Sales are the total receipts from all sales of pizza, beverages and other products or services authorized for sale at the Store or any approved off-site location.
Can Anyone be a Domino's Franchisee?
Domino's is unique in its requirements for franchisees. A franchise applicant must have been a Store manager or Store Supervisor for at least 12 months to be eligible for a single Store franchise and must also have attended certain classes on operating a store. These requirements apply whether the franchisee is buying a store (company-owned or franchised store) or if they are planning to build a new store.