The COVID19 pandemic has created a sticky situation for many people. In those times, many people turn to Food Stamps (ie SNAP benefits and EBT Cards) to buy groceries. At that same time that people are struggling financially, many people are also worried to get out of their house. Luckily, there is an option to get food and other products delivered to your house via the likes of Instacart. That said, do these delivery services accept food stamps and EBT cards?
The quick answer is that food stamps (ie EBT Cards and Snap benefits) are not accepted by Instacart as a valid payment form. The United States Department of Agriculture (USDA) controls the EBT Card program and decides where the card can be used. Although there has been some experimentation with EBT cards and online grocery delivery by the USDA, Instacart is still not part of the program. Hopefully that changes as a part of the pandemic!
Instacart Doesn't take EBT, so what are the other Options / Workarounds?
Over the last few years, many retailers and groceries have started programs where you can do your shopping online. In turn, you can then use your EBT payment to pay for groceries at these accepted retailers.
That said, you cannot use EBT to pay for many items. Users of the cards know the things that they aren't allowed to buy in the grocery, but the excluded list also excludes tips and delivery fees. This makes delivery via Instacart impossible.
Because delivery fees cannot be paid for with EBT, you can try to pay for delivery with a separate form of payment. Many people will buy things at the grocery and pay with two forms of payment (EBT and cash or another credit card). You should try the same online.
Walmart Online Delivery EBT Workaround
Even though delivery may not work, you can still order online at Walmart.com and go to pick up your groceries. Once you get to the checkout, you can choose EBT card as your payment method and pay later at your pickup time. When you get to the store, you will use EBT to pay just like if you were visiting the store.
There are a few easy steps to using EBT at Walmart.com
1. Update your payment info. Note there could take up to 24 hours to update/process
2. Build Your Shopping Cart and Check Out
When you are reviewing your cart, you will see that the total EBT-eligible items:
3. Pay with your EBT Card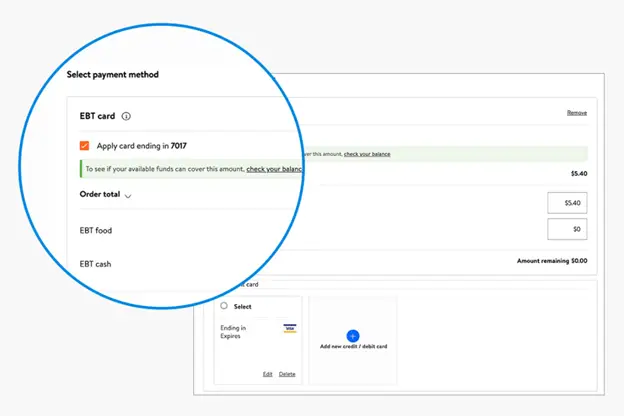 4. Pay with your EBT Card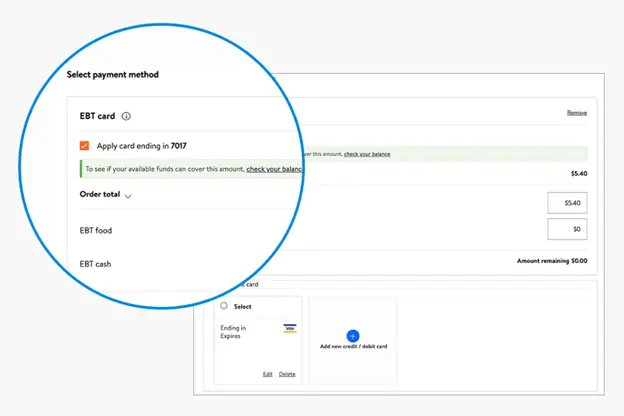 4. Place your Order. After selecting Continue, you will be directed to an external page to enter your PIN. Please note that the numbers on the pin pad will shuffle after each entry for security purposes. Once, you've entered your PIN, you will be linked back to Walmart to Complete your Order
SNAP is currently accepted at Walmart.com for 44 states including New York, South Dakota, New Hampshire, Delaware, Washington, Iowa, Oregon, Alabama, Nebraska, Florida, California, Kentucky, Arizona, North Carolina, Idaho, Texas, Missouri, West Virginia, Vermont, Wisconsin, New Mexico, Colorado, Minnesota, Maryland, New Jersey, Michigan, Virginia, Massachusetts, Illinois, Georgia, Tennessee, Connecticut, Ohio, Indiana, Pennsylvania, Oklahoma, Nevada, Wyoming, South Carolina, North Dakota, Kansas, Mississippi, Utah and Rhode Island. We are working with the USDA to expand our coverage to other areas. Walmart currently accepts SNAP online at 
Does Walmart Grocery Pickup Accept WIC?
Unfortunately, no. Walmart Grocery Pickup does not accept WIC.
Can EBT / Food Stamps be used at Amazon?
Amazon has expanded its payment options to be used with SNAP EBT. Better yet, when using SNAP to shop and pay for groceries, you can qualify for exclusive deals, free delivery with a minimum purchase and not even have to be an Amazon Prime member! Amazon accepts SNAP EBT in all states except Alaska, Arkansas, Hawaii, Louisiana, Maine, and Montana. For more questions visit FAQs here.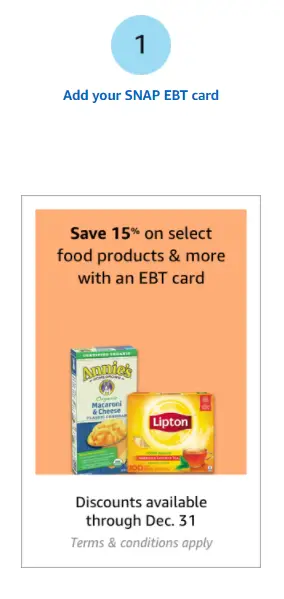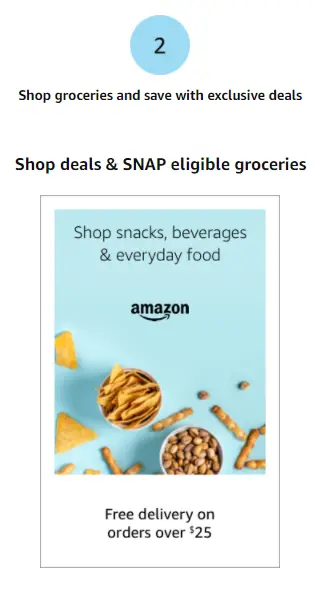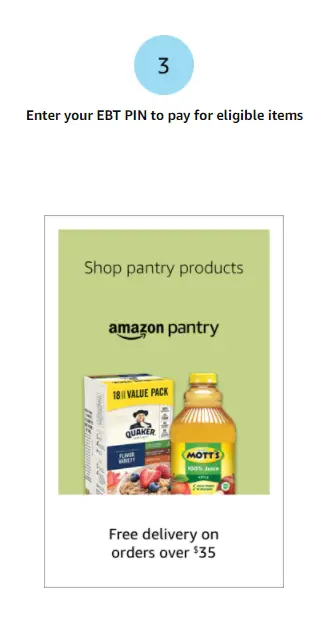 Can EBT / Food Stamps be used at Target.com?
Unfortunately, Target.com does not accept SNAP benefits for online ordering and store pickup. The physical Target store still accepts EBT payments for in-store purchases.
Can EBT / Food Stamps be used at Kroger?
In response to COVID 19, Kroger has announced that they will accept EBT / SNAP payments for online ordering and grocery pickup. There is typically a $4.95 pickup fee at Kroger, but they have decided to waive that during Covid.
Like Walmart and others, you cannot use EBT cards for delivery. Once again, the USDA decides you can buy with an EBT card, and delivery is not an included expense. Other Kroger brands like Fred Meyer and Smith's take a similar approach to SNAP benefits.

Can EBT / Food Stamps be used at Aldi?
On October 22nd, Aldi and Instacart announced a new partnership in order to accept EBT SNAP payments for same-day online grocery delivery and pickup. For the first time ever, EBT SNAP participants will be able to access fresh food and pantry staples via same-day delivery and pickup from Instacart.
This program begins in the coming weeks across ALDI's more than 60 Georgia stores, and will expand to more than 570 stores across Illinois, California, Florida and Pennsylvania in the coming months.
With EBT SNAP payments on the Instacart platform, customers will be able to shop and select from ALDI's EBT SNAP-eligible products. Once items are added to their cart, customers will be able to select how much of their benefits they would like to allocate to the order.