On November 15th, 1969, Dave Thomas opened his very first Wendy's restaurant in Columbus Ohio. In short order, Wendy's became famous for its square burgers, made from fresh beef, and their iconic frosty desserts.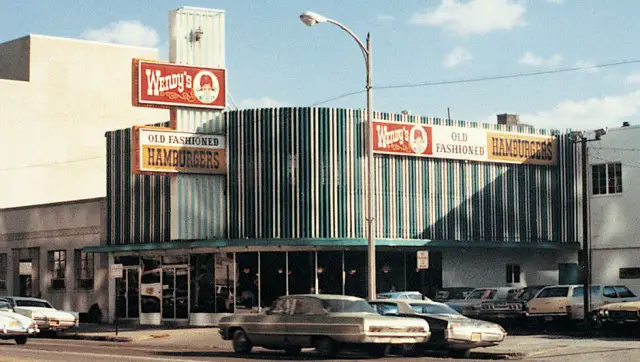 In 1970, Wendy's claims that it started the first Pick-up window and coined the term. This invention was so revolutionary that customers needed instructions on how to talk through the speaker to place an order.
Two years later and three years after starting, Wendy's began to franchise. Today, Wendy's is the third largest Burger chain in the United States behind McDonald's and Burger King with nearly 6,000 locations in the US.
So you are interested in investing in Wendy's then how much of an investment should you expect? We reviewed the franchise disclosure document and found the estimated total investment to be $2,018,500-$3,364,000 if you purchase the building or $323,500-$628,500 if you lease.
How Much Money Does a Wendy's Franchisee Make?
So you bite the bullet and invest $2,000,000+ into a new Wendy's restaurant. How much money can you expect to make? Well, on that investment, you can expect sales in the range of $1,700,000 and EBITDA of 14% or $238,000 per location.
Is making $238,000 on your investment good? $238,000 on a $2,000,000 investment equates to a 12% return on investment. This is similar to other burger concepts and lower than many other smaller franchise systems. Of course, you always need to compare this to other investment opportunities to see if this is good for you.
Estimated Initial Investment
The estimated Initial investment breaks down as follows:
Application Fee: $5,000
Training Expenses: $26,000-$100,000
Initial Technical Assistance Fee: $50,000
Real Estate, Permits, Construction of Standard Prototype:

Cash purchase: $1,240,000-$2,500,000
Financing: $277,000-$547,000
Leasing: $24,000-$48,500

Equipment, Signage and Tech

Cash Purchase: $500,000-$600,000
Financing: $21,000-$26,000
Leasing: N/A

Opening Inventory & Supplies: $10,000-$14,000
Additional Funds (3 Months): 150,000-$175,000
Grand Opening Advertising: $7,500-$10,000
Security Deposit, Utilities, Other Prepaids: $20,000-$165,000
Insurance Cost: $10,000-$35,000
Total:

Cash for all: $2,018,500-$3,654,000
Finance: $570,500-$1,127,000
Lease: $323,500-$628,500
Wendy's Net Worth Requirement
Maybe you can find the money to build a new Wendy's, but along with that Wendy's is also going to check out your net worth. The current net worth requirement to become a Wendy's franchisee is a liquidity requirement of $2,000,000 with net worth of $5,000,000.
Ongoing Investment and Remodel
Franchisees are also required to reimage 60% of their restaurants by 2020 and 100% by 2024 at the rate of 10% of the portfolio per year. These remodels are not uncommon but should be considered as ongoing investment in your store. Often a remodel can cost half as much as your initial investment.
Royalty and Advertising Costs
In addition to the initial investment, other fees include both royalties and advertising. For Wendy's these ongoing fees amount to about 8% of sales. Here is how it breaks down:
Royalty: 4% of Gross Sales
National Advertising: 3.5% of Gross Sales
Local and Regional Advertising: 0.50% of Gross Sales
Take a look at what you can expect from Wendy's advertising: