Papa Murphy's was originally two separate pizza operations. Papa Aldo's Pizza was established in Oregon in 1981. Murphy's Pizza began in California in 1984. Its founder, Robert Graham, owned a Petaluma convenience store when he noticed that one of his vendors was selling uncooked pizzas.
Aware that home ovens could not properly bake pizza dough, which required commercial 600-degree ovens, Graham asked the vendor how he made his crust. Told that the recipe would cost him $10,000, Graham decided to find out on his own. According to company lore, he tried some 250 recipes before settling on a pizza dough that could be baked at 425 degrees in a conventional home oven. With $100,000 in financing he opened several Murphy's Pizza outlets, which did not fare particularly well, due in large part to Graham's lack of fast-food experience.
In 1988 he met Terry Collins, a longtime fast-food executive. Collins was convinced of the potential for the take-and-bake pizza concept and purchased a controlling 51 percent interest in the seven-store Murphy's Pizza chain for $500,000.
Eventually Papa Murphy's became one of the largest pizza shops in American and the purveyor of the "Take N' Bake" Pizza. At the end of 2017, there were 1,500 domestic stores.
So you are ready to invest in this unique pizza franchise but wondering what the investment will cost? We reviewed the Papa Murphy's Franchise Disclosure Document and found that a new Papa Murphy's franchise will cost between $279,070-$518,780.
How Much Money will a Papa Murphy's Franchisee Make?
If you are thinking seriously about taking the plunge on a $300,000 investment, you likely are more interested in how much money you can make. Well, according to the FDD, the average Papa Murphy's brought in $574,000 in sales in 2017. On those sales, you could expect to make a 12% EBITDA profit margin or $75,000 profit per location.
Is Papa Murphy's a good investment? Well, on that $300,000 investment the return was likely $75,000 or a 25% return on investment. That's up to you and your financial adviser whether or not that is a good investment. You can also click below to check out franchise costs from other pizza franchises.
Compare costs to Pizza Hut Franchise Costs Here
Compare costs to Domino's Franchise Costs Here
Compare costs to Papa John's Franchise Costs Here
Papa Murphy's Estimated Initial Investment Cost
The estimated cost to build a new Papa Murphy's franchised location ranges from $279k to $518k. Here is how it breaks down below:
Franchise Fee: $25,000
Lease and Utilities Deposits: $2,500-$6,000
Leasehold Improvements: $67,000-$166,600
Signs: $5,000-$10,000
Stamped Architectural: $6,300-$7,800
As Built Survey: $2,000-$3,700
Opening Package: $116,900-$176,700
Misc Development Service: $0-$1,270
Inventory: $5,000-$7,000
Initial Marketing Fees: $30,000
Franchise Premises Rent (3 Months): $2,700-$15,385
Materials and Supplies: $500-$2,000
Operations Training and Foundations Class: $0-$500
Enterprise Solution Training: $400
Travel and Living Expenses: $3,395-$12,150
Employee Training: $500-$1,500
Insurance (3 Months): $375-$1,175
Bookkeeping/Payroll Service: $1,500-$1,600
Additional Funds, Working Capital, Misc: $10,000-$50,000
Total Investment: $279,070-$518,780
Papa Murphy's Net Worth Requirement
Maybe you can find the money to build a new Papa Murphy's, but along with that Papa Murphy's is also going to check out your net worth. The current net worth requirement to become a Papa Murphy's franchisee is a liquidity requirement of $80,000 with net worth of $275,000.
Royalties, Advertising and Other Ongoing Fees
Here is a sample of what to expect from Papa Murphy's advertising.
Royalties and Advertising fees are the major costs for any franchise and Papa Murphy's is no different. Here are how the ongoing costs break down:
Royalty Fee: 5% of Net Sales
Brand Marketing: 2% of Net Sales
Local Marketing: Minimum of the greater of 5% of net sales or $2,000/month
Online Ordering Fee: $0.35 per transaction
Marketing Kits: $45-$500
Customer Relations Management: $29/month; $0.05 average fee
Franchise Conventions: $1,000 to $3,500
Bookkeeping/Payroll Service: $0 to $500
Store Solutions Team Support: $558 per year
Software Maintenance: $413 per year
Hosting fees, anti-virus: $585 per year
Managed Firewall Service: $35 to $55 per month
Upgrade/refurbish: $4,000 to $50,000
Step-in Costs: Personnel and admin costs, plus 15%
If you are wondering what else to look for in an FDD, you can check out our guide here.
General Market and Competion
With systemwide sales of $847 million in fiscal year 2017, Papa Murphy's is the fifth largest pizza chain in the United States as measured by systemwide sales and total number of stores.
According to NPD Crest, the quick service restaurant ("QSR") pizza market, a subset of the overall pizza category, was about $36 billion in 2017. The top five pizza chains accounted for approximately 50.4% of QSR pizza restaurant sales in 2017 compared to 49.4% in 2016, and 47.8% in 2015.
The major competitors are Pizza Hut, Domino's Pizza, Papa John's and Little Caesars.
Franchise Agreement
You must pay a Franchise Fee of $25,000 when you sign the Franchise Agreement for the purchase of your Franchised Store. This is unless you have signed an Area Development Agreement and paid an Area Development Fee.
If this is your first Franchised Store, you must work in an existing Papa Murphy's Store for a test period of approximately 30 hours within 30 days of signing the Franchise Agreement.
Renewal, Termination, Transfer and Dispute Resolution
Initial term of the franchise agreement is 10 years. Your renewal right may permit you to remain as a franchisee after the initial term of your FA expires. If you wish to do so, and you satisfy the required pre-conditions
to renewal, you will be offered the right to obtain an additional five-year term.
Requirements to renew or extend:
Give written notice at least six months before
expiration of the initial term
Faithfully perform under the initial agreement
Replace the franchise premises and replace obsolete equipment
System Store Performance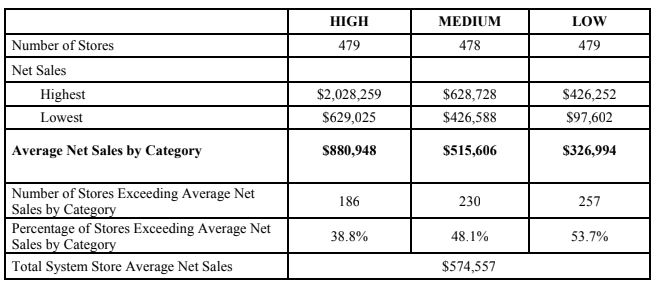 Average Sales $620,331
Average Cost of Goods: 33.1%
Average Labor: 17.9%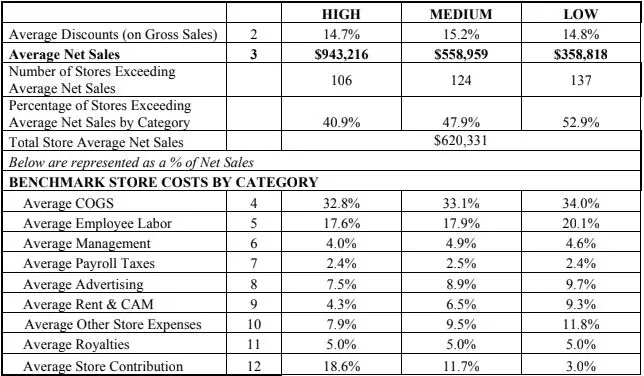 Franchise Outlets
As of the end of 2017, there were 1,479 Papa Murphy's stores and 1,334 were units owned by franchisees.