The third party delivery services are becoming common place these days. If you are lazy or can't get out to get food, an easy option has become DoorDash to order your favorite foods. That said, DoorDash has come costs, both visible and hidden.
We have found that many restaurants charge more for menu items through the DoorDash app than when ordering in the restaurant. According to DoorDash, merchants choose both the items and prices that will be offered in the app. We have found that restaurants many times will price 15-20% higher on the app to offset the DoorDash fees that they pay.
In this example shared by a Reddit user, the price of the items in the store were $7 for the Hamburger, $2.99 for the fries, and $2.50 for the Coke Bottle. From this, there was a DoorDash overcharge of 23% for the Hamburger, 30% for the fries and 24% for the bottle of Coke.
In another example from a Reddit user, Chick-fil-a was seen with a similar process: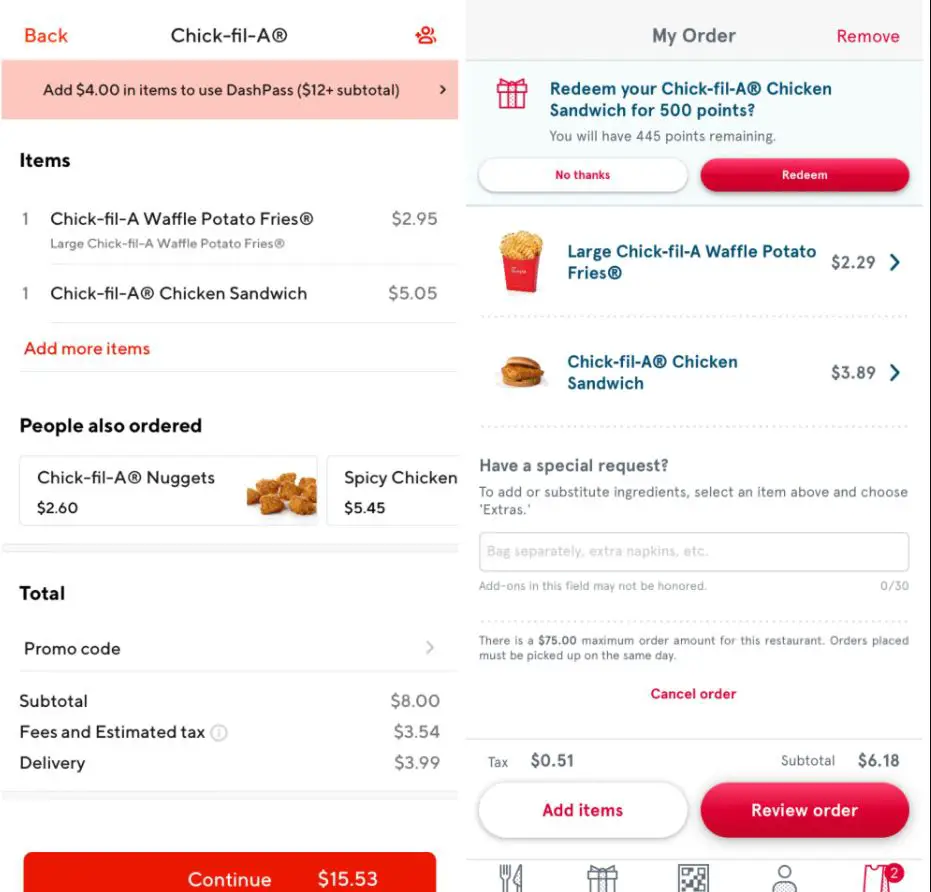 As seen in this comparison, Chick-fil-a is charging $2.95 for fries in DoorDash while charging $2.29 in the Chick-fil-a app. The Chicken sandwich cost in the DoorDash app is $5.05 and $3.89 through the Chick-fil-a app. This amounts to a 30% higher price for the sandwich and 29% higher overcharge for fries.
How is DoorDash able to get away with hidden Upcharge on Menu Items?
One of the best comparisons that we have seen is an online company offering free shipping. Shipping is never really "free", but the merchant has baked this into their prices in order to offer the service.
Similarly, DoorDash allows the merchant to set their items and prices, and there is nothing in the terms that says they have to charge the same prices as when buying in the store.
Ultimately, you pay a fee to DoorDash that doesn't cover the cost of the service. At the same time, a restaurant pays DoorDash a fee to cover the delivery. They are going to try and make up the difference by menu pricing. We only expect this to get worse over time.
As delivery becomes more common and if restaurants don't increase their prices, they will begin to lose money from delivery. That trend won't sustain, so we expect upcharges to continue their rise until people stop wanting to deliver food.