Dairy Queen is one of the oldest restaurant franchises around. The soft-serve formula was first developed in 1938 by John Freemont McCullough and was offered to Sherb Noble to offer soft-serve in his ice cream store in Illinois.
Noble obliged and when he first offered soft-serve, he sold 1600 servings within two hours. Noble and McCullough went on to open the first Dairy Queen in 1940 in Joliet, Illinois. Almost immediately, the group began growing through franchising and had nearly 1,5000 stores by 1950.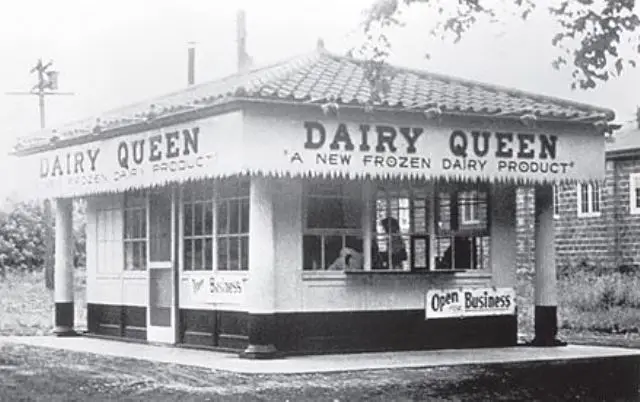 Today, Dairy Queen is owned by Berkshire Hathaway, famously led by all-time great investor Warren Buffett. Overall, there are nearly 6,400 stores with approximately 70% located in the United States.
If you love Blizzards and are thinking about investing alongside one of the most successful investors of all time, you are likely wondering what it costs to open a Dairy Queen franchise. We reviewed the Dairy Queen Franchise Disclosure Document and found that a new Dairy Queen costs between $1,091,025 – $1,849,625. This includes a franchise fee of $35,000 for a single franchise location.
The continuing license fee (royalty) paid to the franchisor is 4% of gross sales. The ongoing sales promotion program (advertising) fee is 5%-6%.
How Much Money can you Make with a Dairy Queen Franchise?
So you decided to drop just north of $1 million dollars on a new Dairy Queen location, but the big thing you are wondering is how much money you can expect to make? According to industry reports and the Dairy Queen FDD, the average sales for a Dairy Queen location are around $1,300,000. On that $1,300,000 in sales, the average EBITDA per location (pre-G&A) is about $180,000. This $180,000 in profit per store is before paying any administrative staff outside the stores or before paying interest on debt or any taxes. This is an EBITDA margin of just over 13%.
Is $180,000 a good return on investment? At $1,000,000 investment, that equates to an 18% return. At the higher end of the spectrum ($1,400,000 investment), that equates to a 13% return. If a 13-18% return is better than you can find elsewhere, Dairy Queen might be an opportunity worth looking into.
Dairy Queen Estimated Initial Investment Costs.
The estimated initial cost to start a Dairy Queen ranges between $1,091,025 to $1,849,625. Like many restaurant franchises, the largest part of this cost is attributable to construction of the restaurant and leasehold improvements. Here is how the costs break down:
Franchise Fee: $35,000
ALTA Survey and/or Site Investigation Report: $0-$5,000
Initial Training and Fees: $1,125 – $11,625
Travel and Living Expenses for Training Programs: $23,000 – $38,500
Building, Construction and Leasehold Improvements: $550,000 – $900,000
Construction Consultation: $0 – $7,500
Building Plans, Design Intent Plans and Architectural Seal: $15,000 – $45,000
Equipment (includes signs and Point-of-sale systems): $390,000 – $530,000
Training Inventory: $5,000 – $16,000
Opening Inventory: $15,400 – $38,000
Utility Deposits, Business Licenses, and Government Charges: $4,000 – $17,000
Attorney Fees: $1,000 – $8,000
Additional Funds: $51,000 – $198,000
Total Estimated Cost: $1,091,025 – $1,849,625
Dairy Queen Net Worth Requirement
Maybe you can find the money to build a new Dairy Queen, but along with that Dairy Queen is also going to check out your net worth. The current net worth requirement to become a Dairy Queen franchisee is a liquidity requirement of $400,000 with $300,000 in cash equity and a minimum net worth of $750,000.
Dairy Queen Locations
At the end of 2018, there were 1,895 Dairy Queen locations. Almost all of these locations, 1893, were franchised locations. Only 2 of these units remain company-owned. Here is how location growth has fared over the past few years, from 1,876 to 1,895 units.

Dairy Queen Franchise Term
The length of the initial franchise term is 20 years. Renewal for one additional term for the shorter of 10 years or the remaining term of the lease is available.
Dairy Queen Royalty
The continuing royalty (licensing) fee paid to the franchisor is 4% of gross sales. This is due on or before the 10th day of each month for the previous month. Gross Sales means the total revenues and receipts from the sale of all products sold by the restaurant, whether paid for in cash, credit, gift card or otherwise for all products under any of the trademarks as well as other products, services and merchandise sold in the restaurant. This excludes sales taxes and gift card sales.
Dairy Queen Sales Promotion Fee Program
The ongoing sales promotion program (advertising) fee is 5%-6%. This is due at the same time as royalty payments. Dairy Queen has the right to determine the percentage you must pay within the range, without regard to the sales promotion fees paid by other Dairy Queen restaurants. Dairy Queen must let you know 90 days in advance of any fee adjustment. Dairy Queen may also lower the sales promotion fee for stores such as airports and stadiums that charge admission or have a ticketed entrance.
Here is an example of what you can expect from your advertising fees: