Founded in 1954, Burger King is the second largest fast food hamburger chain in the world. Inspired by what the McDonald's brothers were doing in California, Keith Cramer and Matthew Burns brought a similar concept to Jacksonville, Florida.
They opened their first stores with a cooking device known as the Insta-broiler. The first franchises of James McLamore and David Edgerton eventually bought the concept and started franchising. Eventually the company had over 250 locations when it sold to the Pillsbury Company in 1967.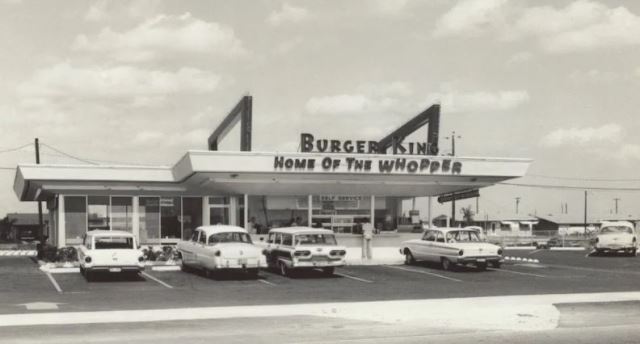 Today, Burger King is owned an operated by Restaurant Brands International who also owns Popeye's Louisiana Kitchen and Tim Hortons. According to the company, Burger King Restaurants serve over 11 million customers per day.
So you want to join as a franchise and want to know what it costs to start a Burger King? We reviewed the Burger King Franchise disclosure document (FDD), and the estimated initial investment ranges between $1,616,600 to $3,125,600 for a freestanding and full size facility, including a $50,000 franchise fee.
How Much Money Will does a Burger King Franchisee Make?
So how much money can you expect to make on your $1.6M to $3.1M investment?The average sales for a franchisee-owned store was $1.38M in the year ending in 2017. On that $1,380,000 in sales, average EBITDA is likely in the 12-13% range, so you can expect to make $165,000 per location.
Is this a good return on investment? Well, $165,000 return on a $1,616,000 investment amounts to a 10% return on investment. This is towards the lower-end of what we see for returns from restaurant investments but should be compared to your other opportunities to deploy your investment dollars to see if this is a good investment for you.
The highest sale in the system were $4.2M for a single store and the lowest sales were a small $149,884.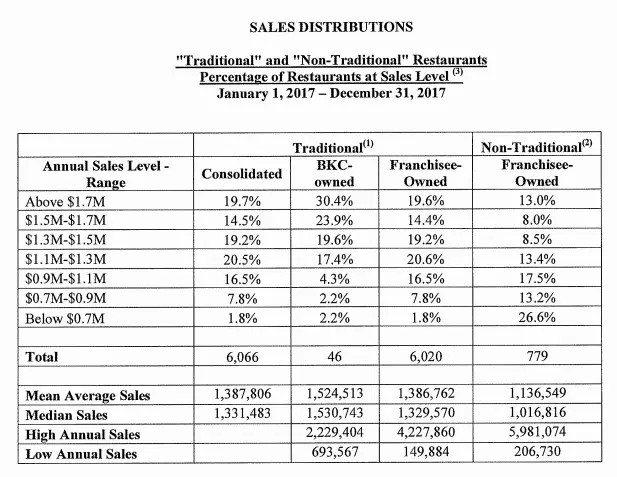 Franchise Fee
The franchise fee for a Burger King Restaurant is $50,000. This is pretty high for a restaurant franchise and lands at the top-end of what we see for other food franchises. Many of the well know national brands like BK demand higher fees.
Estimated Initial Investment
On top of the franchise fee, the total expected investment for a Burger King Restaurant is between $1.6M to $3.1M.
Below outlines how the initial investment breaks down.
Franchise Fee: $50,000
Travel & Living Expenses while training: $0 to $25,000
Real Property / Occupancy: $400,000 to $850,000
Civil & Architectural Drawings: $20,000 to $45,000
Zoning Expenses: $5,000 to $25,000
Improvements/Construction: $650,000 to $949,000
Landscaping: $25,000 to $60,000
Equipment: $199,600 to $294,600
Decor Package: $35,000 to $68,000
Signage & Drive-thru: $66,000 to $166,000
Pre-opening wages: $57,000 to $61,000
Opening Inventory: $5,000 to $12,000
Cash, Inventory and Order Taking: $35,000 to $110,000
Insurance: $14,000 to $25,000
Working Capital: $45,000 to $90,000
Business Licenses, Lease Deposits, Etc: $10,000 to $30,000
2-story interior playground: $0 to $245,000
Total: $1,616,600 to $3,125,600
Burger King Net Worth Requirement
Maybe you can find the money to build a new Burger King, but along with that Burger King is also going to check out your net worth. The current net worth requirement to become a Burger King franchisee is a liquidity requirement of $1,000,000 with net worth of $3,000,000.
Other Ongoing Fees: Royalties and Advertising fees
The typical ongoing fees for a franchise company include royalties and advertising fees paid back to the franchise company. At Burger King, the Royalty is 4.5% of sales and the advertising fee is 4% of gross sales.
These royalty and advertising fees are middle of the road for food franchises, not too high and not too low.
Here are some of the type of commercials to expect from Burger King:
Number of Restaurants
Today there are over 13,000 Burger King restaurants across 91 countries. That includes over 7,200 in the United States with the majority franchised (just ~50 company owned stores)