Yesterday, Wingstop updated their guidance for Q4 same store sales. The company reported domestic comps +6% which was higher than the expected +4.9%.
Some investors were disappointed, but overall it seems that most commentary was upbeat.
During its presentation to investors, the company pointed out an industry-leading track record of same restaurant sales growth.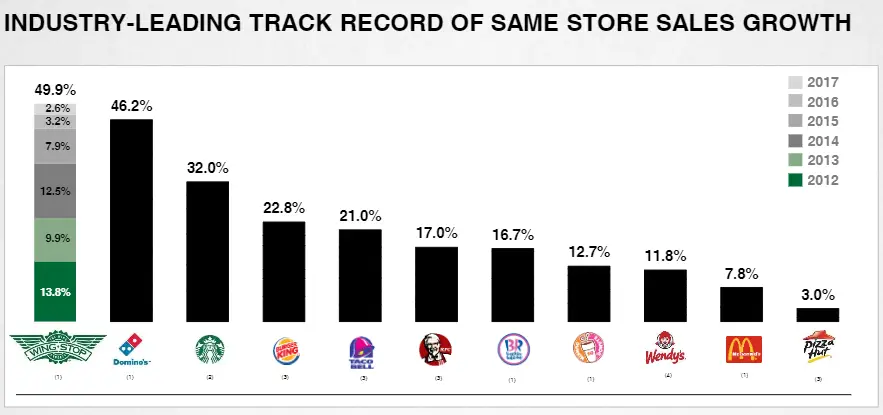 Management also told investors that it plans to maintain sales growth through national advertising, digital sales and through delivery.
On the path to digital sales, Wingstop points out that 75% of transactions are take-out with a $5 higher digital average ticket. A customized website and app were launched in early 2019 to try to take advantage of these trends.
To capitalize on delivery, Wingstop will grow through a partnership with Doordash. Delivery is already deployed in six markets. These first markets include Austin, Chicago, Denver, Houston, LA, and Las Vegas and make up 30% of total restaurant count.
Wingstop hopes to offer delivery to 80% of the system by the end of 2019. Wingstop looks to continue a plan of rapid unit development. As of the end of 2018, there were almost 1200 stores. That count has been growing greater than 10% a year.
On a last note, the company provided what it considers best-in-class unit economics. We always enjoy seeing restaurants forthcoming with their unit economics.