With all franchises, there comes a time when you either have to remodel the store or make upgrades. This can come in the form of technological upgrades or a full overhaul of the restaurant.
If you are wondering about the initial Wendy's franchise cost, you can check out the costs here.
At the some time, you can be expected to upgrade. There are many ongoing upgrades at Wendy's. At the current time, about half of the Wendy's system has already undergone remodels. The average time between remodels according to the franchise agreement is every 10 years (half of the franchise term). A standard remodel/refresh costs between $275,000 and $400,000. That said, costs can range from $137,500 for a lite refresh to up to $2,200,000 for a scrape and rebuild.
Remodel Costs
The costs can range from $137,500 to $2,200,000. Here is how that breaks down for different remodels.
Refresh Lite: $137,500 to $200,000
Refresh: $275,000 to $400,000
Standard Design: $600,000 to $900,000
Scrape and Rebuild: $1,600,000 – $2,200,000
Remodel Program
Image reactivation options of standard, refresh and refresh light are dictated by unit-level sales.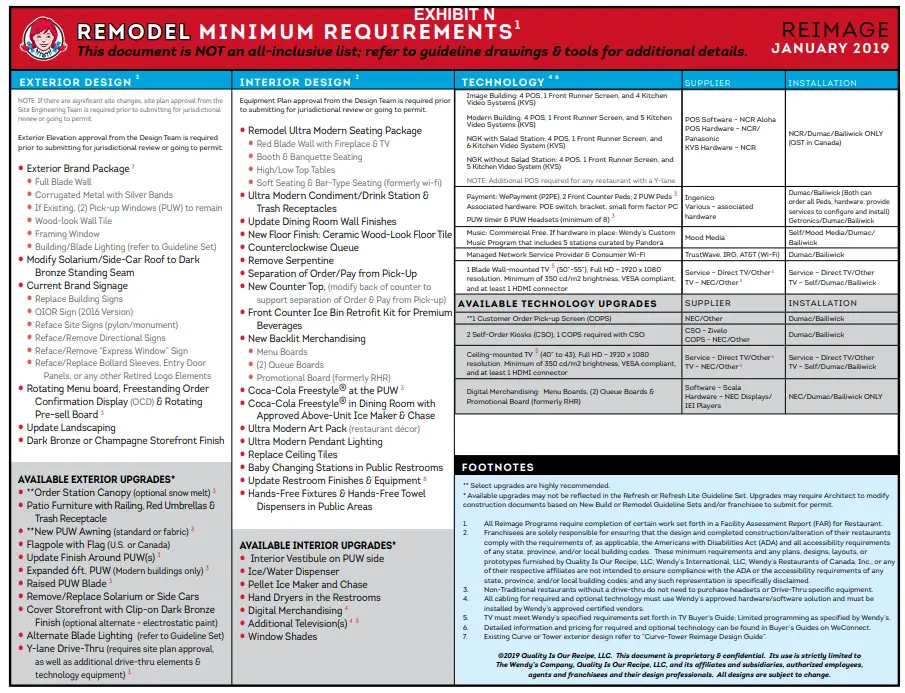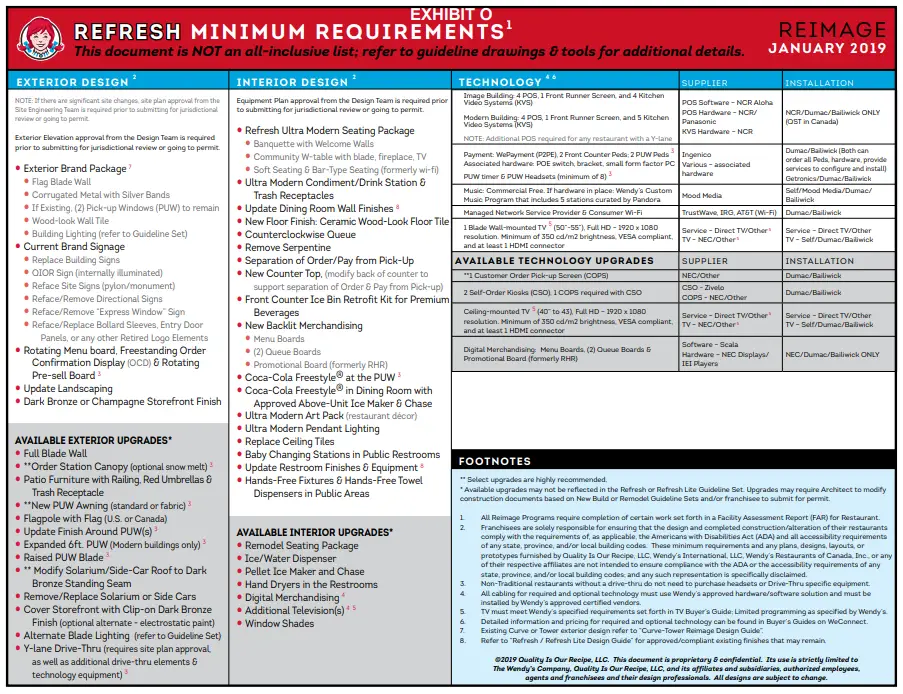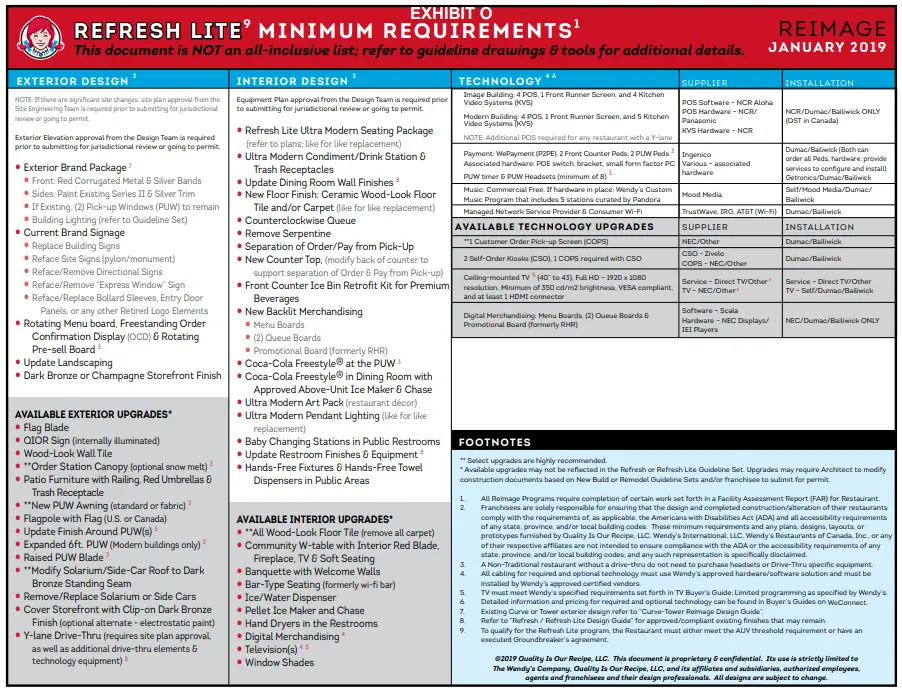 In early 2013, Wendy's started rolling out a new logo.
Standard remodels include both interior and exterior remodels and cost from $600k to $900k.
Refresh lite option is available for stores doing less than $1,300,000 in sales.
Remodel Incentives
Some franchisees will give out incentives to move franchisees towards these remodels. Wendy's offered a 1% royalty reduction for franchisees that completed approved remodels by 3/1/10. This royalty reduction lasted for 12 months. Additionally, any franchisee that elected for a refresh or remodel had their franchise term extended for 20 years.
The prior remodel incentive occurred in 2016. For franchisees completing remodels during this time, the renewal fee was waived and a 2% royalty reduction was received. For stores below $1.6M volumes, there was an additional 1% royalty reduction available for 12 months.
POS System
The current POS system rollout was completed a few years back. This new POS allowed mobile ordering and mobile payment. The upgrade came at a cost of $18,000 – $25,000 and included a software upgrade.
In addition to mobile order and payment, the POS also allows pre-selling marketing capabilities.
As far as an ROI, system operators are able to view operational metrics from their smartphones and drive 50-100 bp of food cost improvements.
Store Equipment
The "Next-gen" equipment remodel costs between $250,000 and $400,000 and is an elective cost. This includes larger fryers, longer sandwich lines, a separation of the salad and sandwich lines and two-sided sandwich lines. This is useful for high volume stores.
In-store digital menu boards cost around $20,000.
Additionally, the Activation includes a switch to the freestyle Coca-cola machine. Freestyle systems tend to be popular with customers but are expensive for operators. These machines must be leased instead of the free use of traditional machines. The Freestyle machine also creates throughput bottlenecks, and high volume stores require two systems.
Customer Access Upgrades
As greater than 65% of sales happen in the drive thru, a double drive thru can be added during a remodel for around $75,000.
In-store kiosks can improve customer experience in the store. The cost of 3 in store kiosks runs about $20,000. Many operators hold off during remodel as the ROI from kiosks is still somewhat unproven.
DoorDash delivery is also working its way through the system in about 20% of the system at the end of 2018.