Hardee's founder, Wilber Hardee, opened his first restaurant in North Caronlina in 1960. After a year of success, Wilber decided to look into expanding his restaurant and opening another location so he met with James Gardner and Leonard Rawls to discuss doing so.
Shortly thereafter, the first company store was opened in 1961. Rawls and Gardner sold their first franchises to a small group of longtime friends and acquaintances who formed their own companies and over time, built hundreds more franchised locations. Hardee's Food Systems went public in 1963 with Rawls as president.
Today, Hardee's is franchised with most locations in the Southeastern United States.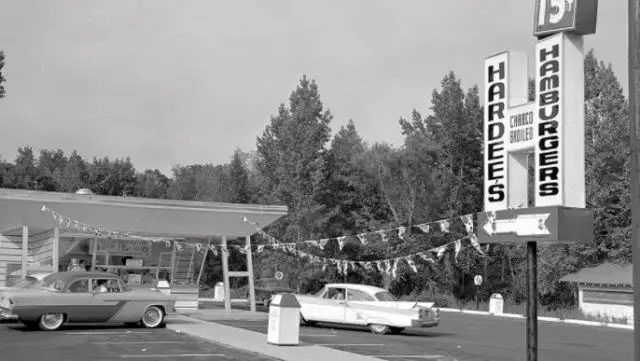 You don't want to just eat these thickburgers and biscuits but are interested in buying your own Hardee's franchise and want to know how much it costs? We reveiewed the Hardee's Franchise Disclosure Document and found that a new Hardee's franchise store will cost between $1,530,000 to $1,995,000.
How Much Money Can you Make as a Hardee's Franchise Owner?
You have an extra $1.5M+ sitting around and are ready to invest in a Hardee's franchise? The big factor you will next want to determine if how much money you can make. According to the FDD, the average Hardee's will bring in around $1,300,000 in sales and make around 12% profit margins. That means you will make about $156,000 in profits per location.
Is that a good investment? Well, at around a $1.5M investment, that is less than a 10% return on invested capital. You will need to evaluate this versus other investment opportunities available to you.
Estimated Initial Investment
The estimated initial cost ranges between $1.53M to $1.99M, and here is how those costs break down:
Initial Franchise Fee: $10,000-$35,000
Opening Training Support Team Fee: $0-$10,000
Real Property: Variable
Building: $493,000-$540,000
Soft Costs: $83,000-$100,000
Equipment: $380,000-$410,000
Signage: $62,000-$100,000
Point of Sale System: $35,000-$45,000
Initial Training: $20,000-$60,000
Pre-opening Costs: $14,000-$20,000
Additional Funds (3 Months) $125,000-$225,000
Total Estimated Initial Investment: $1,530,000-$1,995,000 (Does not include real estate costs)
Hardee's Net Worth Requirement
Maybe you can find the money to build a new Hardee's, but along with that Hardee's is also going to check out your net worth. The current net worth requirement to become a Hardee's franchisee is a liquidity requirement of $300,000 with net worth of $1,000,000.
Royalties, Advertising and Other Ongoing Costs
Like most other franchises, the main ongoing costs for a Hardee's location will be accounted for by royalties and advertising costs. Here is how it breaks down:
Royalty: 4% of Gross Sales
National Advertising: 4.25%
Regional Co-op: 0.5%
Financial Metrics
Average Store Volumes (AUV): $1,300,000
EBITDAR Margin: 18.5%