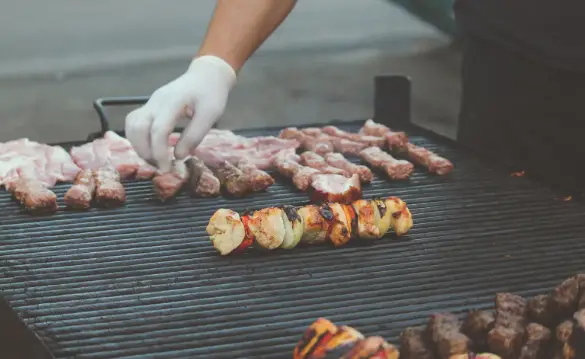 If you ever find yourself in High Point North Carolina, you will not be disappointed in the food options. From seafood to Carolina BBQ, you won't have to look too far to find a great meal. Here are some favorite spots to eat!
1. Magnolia Blue
Magnolia Blue was created to bring the finest, most creative interpretations of enduring southern flavors to the High Point community. From pot roast to chicken skewers and fried green tomatoes, you will find classic interpretations of these southern foods.
Also check out the rooftop patio bar on the second floor with view of Main Street. This can be a great spot for a private party or to watch a nice sunset.
2. Odeh's Mediterranean Kitchen
At Odeh's Mediterranean Kitchen, come to enjoy all the Mediterranean classics like hummus, falafel, kabobs, gyros and skewers. Closed Sundays.
3. Coast
You are on the coast, and you are in the south. Since both of these are true, check out Coast Restaurant for some great southern seafood. Raw and prepared oysters are prepared on site with an exhaustive beverage program built into the menu as well.
For a fun setting, check out the rooftop patio, enjoy the two bars or sit in the courtyard. The dining room also has floor to ceiling windows. All these make Coast a truly unique atmosphere.
4. Becky's & Mary's Restaurant
Looking for a family style restaurant that is serving up soul food? Look no further than Becky's & Mary's Restaurant in High Point. Enjoy great food and large portions with what you would come to expect from some old fashioned comfort food.
Looking for the right southern dish? Try the fried chicken, meatloaf, potato salad and yams. All are great and will have you wishing you way back again!
5. 98 Asian Bistro
Looking for Asian food while in High Point? 98 Asian Bistro is your spot. Serving up appetizers like spring rolls and edamame and then heading to some great entrees like stir fry, sweet and sour or cashew chicken, there are all the options that you would imagine. If calamari is your thing, check out what they are serving at 98! It is a fan favorite!
6. Blue Water Grille
Named after the open ocean, the Blue Water Grill deserves a visit next time you are in town. The food choices are made up of both fresh meat and seafood and fresh seasonal fruits and veggies.
Then the freshness is taken to the next level at the hands of the chefs and their interpretation of French and Asian cooking techniques. From veal Crostini to BBQ Duck Confit served over smoked cheddar potenta, bring your taste buds, and they may not want to leave!
7. The Penny Path Cafe & Crepe Shop
Whether you are looking for breakfast, lunch or dinner, Penny Path has the crepe that can satisfy your needs. Sweet options include things like the "Original" – a combination of strawberries, banana, and nutells or the "Fruit Cheese Cake" or "French Toast"
Savory options include items like ham & cheese or a four spread – two cheese, mushrooms, tomatoes, corn, roasted red peppers, spinach and artichoke hearts. Inside and outside seating is available at this quaint High Point eatery.
8. Sweet Old Bill's
Located on Main Street in High Point, Sweet Old Bill's serves up all the classics like barbeque, burgers and other sandwiches. This is a nice and easy spot that is great for groups of all types: kids, groups or walk-ins alike.
9. Steak Street
Looking for a great steak dinner? Where would you go? How about Steak Street? As a New Orleans themed steakhouse. Steak Street is the right street to end up on.
On top of grass fed beef, there are also some southern inspired dishes like BBQ Shrimp and grits and jambalaya that really put this experience over the top. If you are seeking out an evening of celebration or a unique steak experience, this is the dining experience that you have been looking for.
10. BBQ Joe's Country Cooking & Catering
As another source of Carolina BBQ, BBQ Joe's has been making back yard BBQ for around 15 years. From Brisket to smoked pork or turkey, you won't miss most of your traditional offerings. That said, a unique item for a BBQ joint is the breakfast menu. What is better than a great piece of meat on a southern biscuit? I would dare you to find something better to start your morning. Definitely go check out the breakfast next time you stop by.